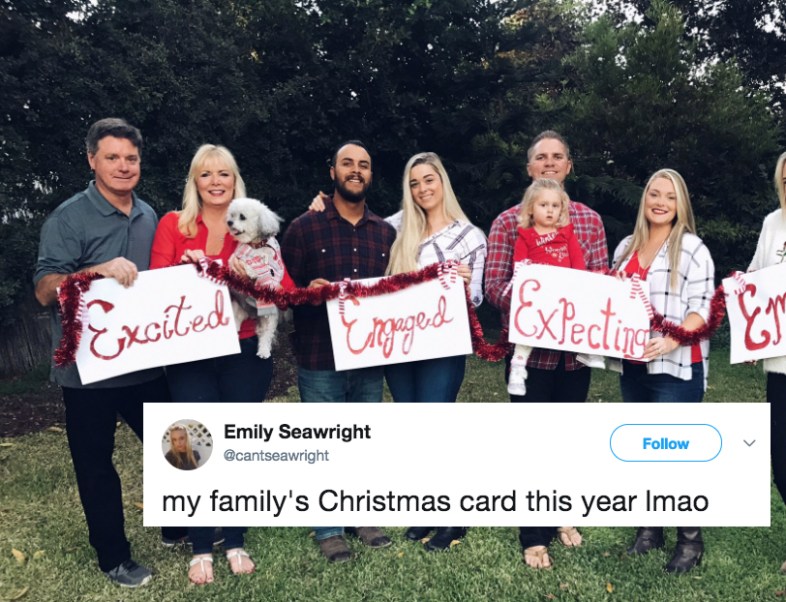 Being single over the holidays isn't always easy, if only because everyone in your family will be hounding you about that "special someone" over dinner. Really, I couldn't care less about not having someone to kiss under the mistletoe, but can you stop asking when I'm going to get married, Aunt Margaret?!
Twitter User Emily Seawright captured the feeling perfectly in her family's hilarious (and brutally honest) Christmas card.
my family's Christmas card this year lmao pic.twitter.com/A2L7wfsprN

— Emily Seawright (@cantseawright) November 26, 2017
Um, okay, why is this so damn real????
Naturally, the picture gained a lot of attention from us singles in the world.
Yous should say hungry

— undecided (@skeletoncruise) November 26, 2017
— alex truner el de actric monkey (@sandiacontajin) November 27, 2017
Emily, continue living your best life. You're doing great! 😘

— S H E R I 👑 (@Shiricaa) November 27, 2017
Others decided this was a great chance to shoot their shot.
Let me help you out Emily

— Jacob (@jpost24) November 27, 2017
https://twitter.com/TheRossNelon/status/935024863949058048
Let me fix that

— Daniel (@dannyobrien2915) November 28, 2017
Some users even shared their own versions of the photo (and, spoiler alert, they're all perfect).
When you can relate too well pic.twitter.com/C2ygCSnoxI

— Kylee Hansen (@HansenKylee) November 28, 2017
https://twitter.com/nugget154/status/935284444683997184
This was ours 😅 pic.twitter.com/vJHiueLaDd

— sam (@samanthaeythh) November 28, 2017
If I'm going to be honest, I'd rather have the Egg McMuffin.