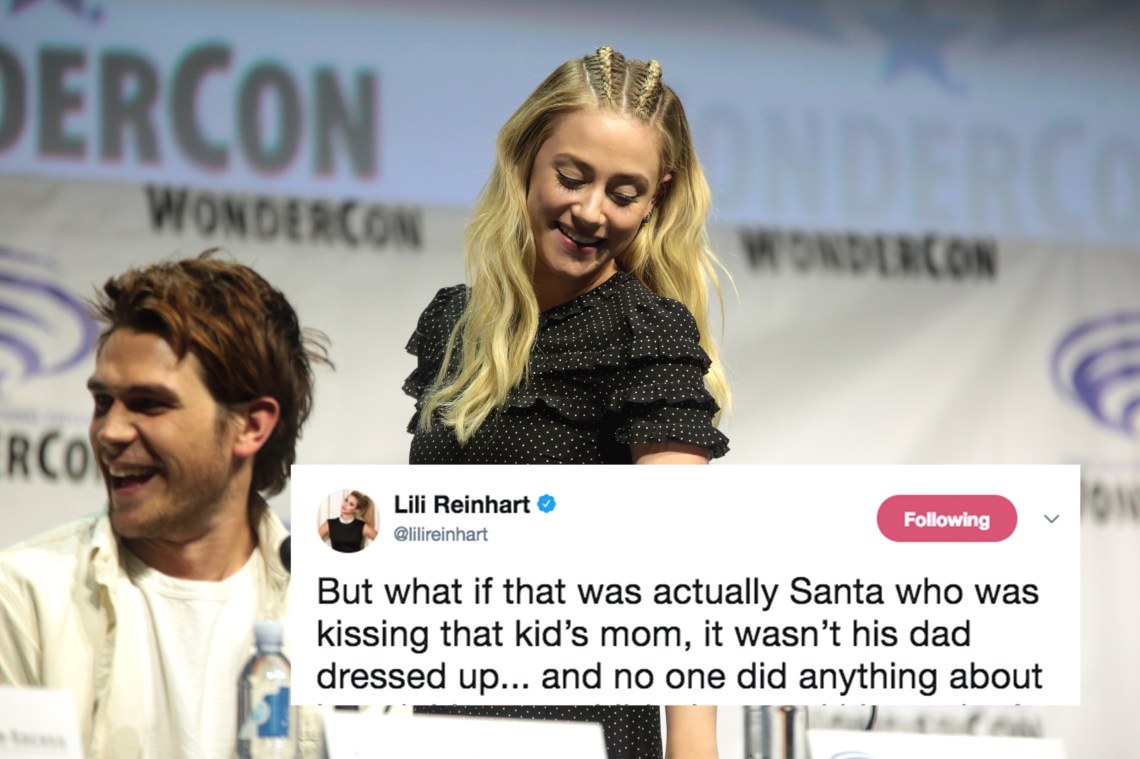 Lili Reinhart, aka Betty Cooper on Riverdale, is one of the reigning queens of Twitter. Seriously, this girl is hilarious, and it totally makes sense why Cole Sprouse is (probably) dating her. She's perhaps best known for live-tweeting each Riverdale episode, calling out people who harass her co-workers, and her thoughtful one-liners:
But when will Princess Peach learn to save herself?

— Lili Reinhart (@lilireinhart) November 3, 2017
Her newest hot take about the song "I Saw Mommy Kissing Santa Claus" definitely has people talking.
But what if that was actually Santa who was kissing that kid's mom, it wasn't his dad dressed up… and no one did anything about it and this poor child witnessed his mother's affair and sang about it and we all just sang along and laughed at his innocence?

— Lili Reinhart (@lilireinhart) November 28, 2017
Um, excuse me Lili, that's my childhood you're talking about. Can you not???
https://twitter.com/pignolisday/status/935604026984591360
I think its time to put the eggnog down dear

— Lakayla (@LakaylaPatters1) November 28, 2017
@CamilaMendes pls claim your woman here she's going through something

— d i m p l e s🌹 (@karlasheroin) November 28, 2017
A lot of people couldn't help but think that Cole had something to do with it…
https://twitter.com/jugsangel/status/935604336813641728
https://twitter.com/csreinhrt/status/935603984508833795
This sounds like something cole would tweet

— 𝐫𝐨𝐬𝐞 (@faIIingolden) November 28, 2017
Cole is that you?

— ☻ (@alyharts) November 28, 2017
You've been dating @colesprouse too long 😑

— Brenden Escott (@BrendenEscott) November 28, 2017
I mean, it could make for a good story, though.
But what if Santa was really there for him? Showed up for school plays and the science fair and all those times his dead beat dad promised but failed to make good on. Good for mom finding love again and with Santa no less.

— AndrewKlaus-Vineyard (@AndrewKLAUS) November 28, 2017
Well, I'm never listening to that song the same way again.