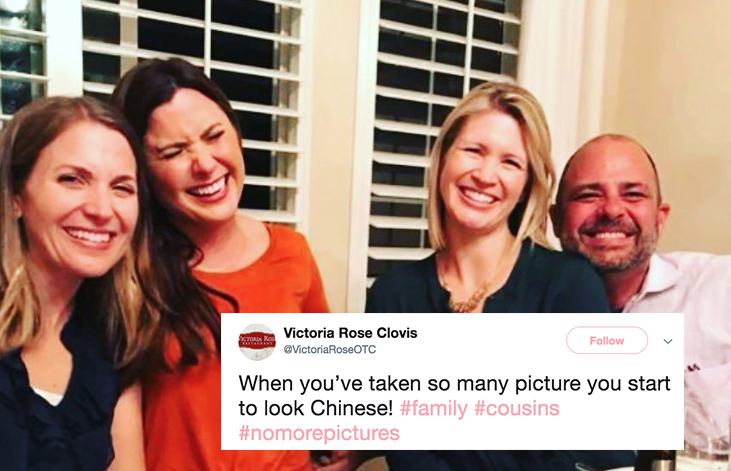 Another day, another problematic tweet for the Internet to tear apart. Honestly, at this point, I'm not even surprised.
This time the perpetrator is a restaurant called Victoria Rose in Clovis, California. The restaurant posted a picture of their founding family during a meal and captioned it, "When you take so many picture [sic] you start to look Chinese!"
https://twitter.com/VictoriaRoseOTC/status/934217534630395904
Of course, people were quick to jump on the tweet.
— molly (@_mollyholsinger) November 26, 2017
https://twitter.com/littlekim/status/934574565468065792
https://twitter.com/WeAreTheFurler/status/934820632268750848
— Eff Everything.⚖💛🐝 (@AYFKMPEOPLE) November 25, 2017
https://twitter.com/bbylychee/status/934793596447834118
How do i delete someone else's tweet

— cockstrings (@myungjunlogy) November 26, 2017
Okay but how much do you want to bet these restaurant owners would be super upset if people were mocking them about being white?
Oh wow I'm so white ketchup is spicy pic.twitter.com/iKx30rIuQi

— follow new page in bio (@notjuliebeanx) November 26, 2017
I think the fuck not pic.twitter.com/qAA3ov4ZYE

— Megan (@megan_the_sheep) November 26, 2017
Let's just say that no one is stepping forward to defend the restaurant, that's for sure.
Despite the backlash, the restaurant hasn't taken the tweet down, nor has it responded to the controversy. Maybe that's because, according to Yelp, the company has actually been closed since 2012. I guess their business can't really suffer from this, huh?
So, what do you think? Is it racist or is the tweet being blown out of proportion? I'll let you decide.