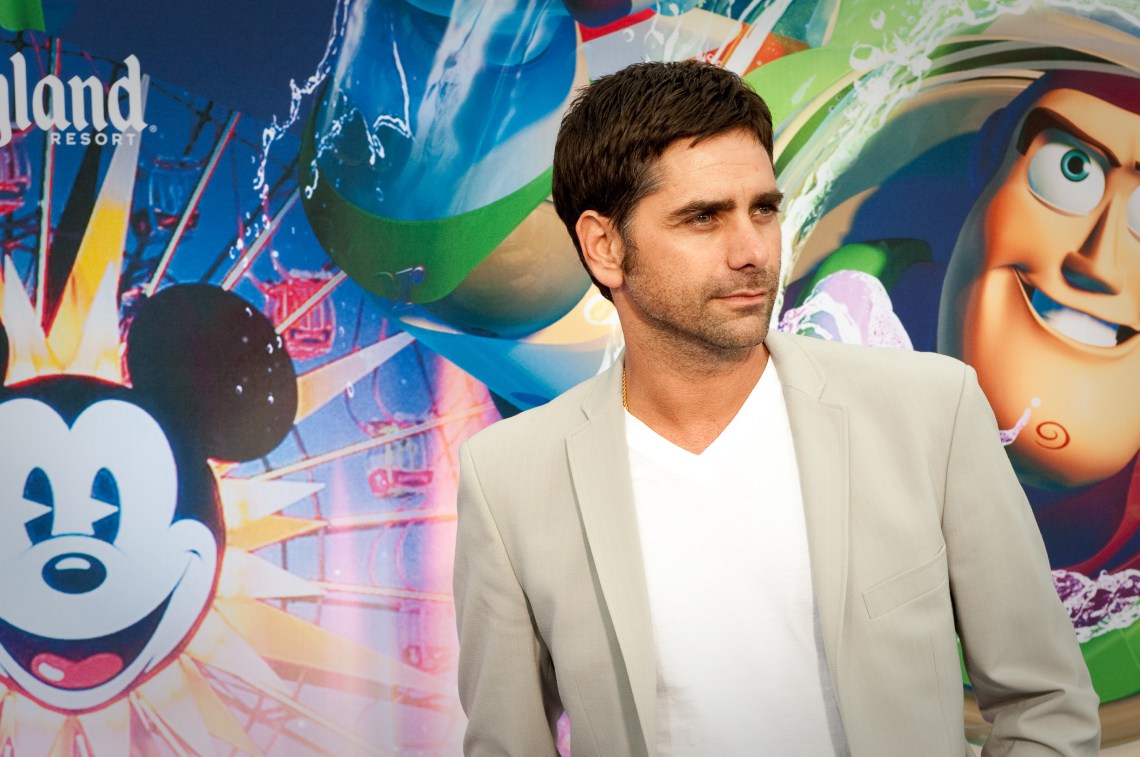 Aaron Carter may have been the first boy that I ever loved, but Uncle Jesse from Full House was the first man I ever gave my heart to. Can you blame me? He was the soft-hearted bad boy, the white knight who rolled up on his motorcycle in his leather jacket to save the day for his family. Even 6-year-old me recognized how sexy that was and I hadn't even learned to write full sentences yet.
John Stamos, the genius behind Uncle Jesse's soft-but-sexy demeanor, has basically stayed pretty single since the show, making it easy to fantasize about one day REALLY getting to marry him. That is, until today. Stamos is officially off the market.
https://twitter.com/JohnStamos/status/922314356863283200
You hear that? That's the sound of millions of women's hearts shattering all at the same time.
Okay, I'll grudgingly admit that the whole thing sounded pretty cute. I guess Stamos took his then-girlfriend (now-fiancée) Caitlin McHugh to one of her favorite places in the world: Disneyland. That's right, your mcm just asked his wcw to spend the rest of her life with them in the most magical place on Earth and you can't even get yours to take you to a nicer restaurant than McDonalds on most days.
John Stamos at Disney 😍 @JohnStamos pic.twitter.com/3DlWSlTfsa

— Jasmine (@jasminnie98) October 23, 2017
https://twitter.com/_paul_briggs_/status/922527733564915712
I mean, I'm happy for the couple, but I'm also devastated, you know?
imagine being proposed to by john stamos at disney world……..like honestly that's better than any dream i've ever had this girl wins life https://t.co/jCLOta2rSp

— victoria🧸 (@victoriaabryn) October 23, 2017
https://twitter.com/alexavakratsis/status/922327856126054401
https://twitter.com/arianamcano/status/922340393940856832
The total crushing of childhood dreams aside, I'm so glad John Stamos is marrying a Caitlin. I'll get over the fact it isn't me one day. ❤️

— Caitlin Dineen (@CaitlinDineen) October 23, 2017
The two will probably get married in some faraway country with pretty beaches and gold castles because honestly, once you've been proposed to at Disneyland, how do you even go up from there? But as for now, the couple continues to celebrate the fact that they're in ~love~ and fully ~committed~ at the most magical place on Earth.
I guess Disney really is the place where dreams come true, except for 6-year-old me's dreams of one day marrying John Stamos.