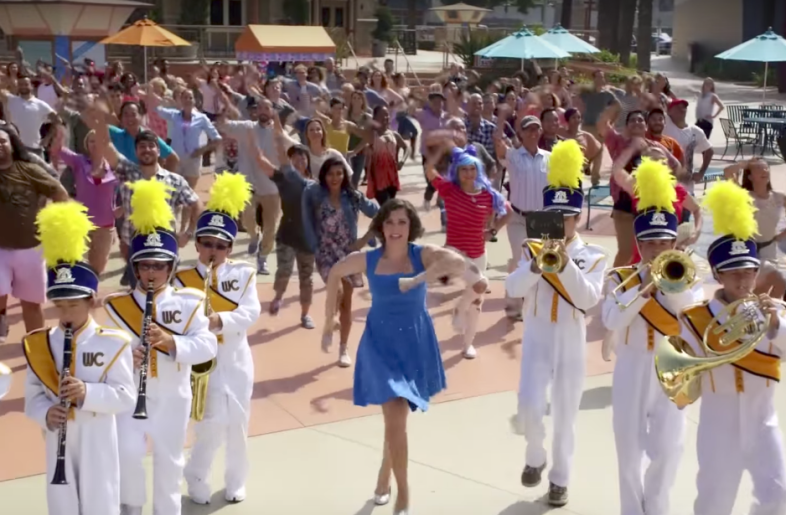 The world of television is filled with hidden gems that are overlooked for hits like Game of Thrones, Shameless, and This Is Us. What better way that welcoming fall than putting on your favorite sweater, snuggling up with a hot cup of cider, and binge-watching one of these underrated treasures?
Crazy Ex-Girlfriend
I've said it before and I'll say it again: why aren't more people watching Crazy Ex-Girlfriend?!?! Don't let the fact that it's a musical comedy scare you away — even if you aren't a Broadway fan, the plights of crazy ex-girlfriend Rebecca Bunch is so relatable it hurts. Even though she moved from New York to California for a boy she dated one summer when she was 16. Even though she spends the majority of the show plotting to break up him and his beautiful, perfect girlfriend. The show has covered nearly every neurotic thought I've ever had about dudes, body image and female friendships. It's so real you'll find yourself rewinding certain parts over and over again while thinking, "Wait, did the writers read my diary?!" You can find the first two seasons on Netflix while you wait for season three to start airing again on October 13.
You're The Worst
This irreverent comedy about two terrible people who fall in love with each other is honestly one of the best shows airing on TV right now. Jimmy and Gretchen are two selfish, broken people who somehow become better people when they're together — but, well, not that much better. This is one of the few shows that makes me actually laugh out loud, but what's so special about it is that even through all the comedy, it manages to tackle big topics like depression, anxiety, PTSD, abandonment issues, and infidelity. You'll laugh your ass off one minute and reach for the tissues the next, but you'll never stop love-hating Jimmy, Gretchen, and their small group of equally fucked up friends. You're The Worst's fourth season is currently airing on FXX, though you can watch the whole thing on Hulu.
The Good Place
This show deserves so much more credit than people give it. Starring Kristen Bell, the show focuses around a woman named Eleanor who died and went to "the good place" to live out her afterlife — except there was a huge mistake, because Eleanor was actually a terrible person on Earth and everyone seems to think she's someone she's not. Afraid of being outed and sent to live in "the bad place", Eleanor tries to fake it till she makes it, but her very existence in "the good place" seems to throw the universe out of whack and wreak havoc on the unsuspecting good samaritans who live there. Can she learn to be good or is she doomed to find her way to where she really belongs? Eleanor may be a terrible person, but she makes for a great comic relief. This show is only on its second season, which is currently airing on NBC, though you can watch the first season on Netflix.
Lovesick
When Dylan finds out he has chlamydia, he has to reach out to the women he's slept with in the past to tell them — and I mean all the women he's slept with. And there are quite a few, as he doesn't seem to know how to be single. As Dylan reconnects with the flings of his past, you find out how he came to be in the present — desperately in love with someone he can't have. What makes this show so addicting is the ensemble that makes up Dylan's friend group, including best friend Evie, womanizer Luke, hapless Angus and his neurotic wife Helen. The show weaves seamlessly between past and present to show that sometimes, love is more than about connecting with someone — it's about timing. You can find this British rom-com on Netflix.
The Night Of
Despite nabbing an Emmy, I hadn't heard anything about this show until my friend recently told me to watch it. And man, am I glad I did. This thriller will keep you on your toes for all eight episodes, and even when it's over you won't be able to stop thinking about it. The amazing Riz Ahmed plays Nasir Khan, a Pakistani-American college student in New York. He's a good Muslim boy who lives with his parents, rarely goes out, and has only drank alcohol once. But when he decides to go out for one night of fun on his own, he finds himself caught up in a wild night of drugs, alcohol, sex, and murder. Accused of a crime he swears he didn't do, Nasir finds himself caught up in the world of criminals as he awaits his trial in prison, all the while certain he did nothing wrong — even though he can't remember what happened the night of the crime. You can find this miniseries on HBO.
Insecure
Insecure is another one of those shows that's painfully relatable. It follows Issa (played by the goddess Issa Rae) as she navigates the world of dating, friendship and love as a black woman. Issa, an aspiring rapper in a stale relationship, is the perfectly awkward heroine we need, and her best friend and counterpart Molly, a successful lawyer looking for love, is the perfect representation of everything that's wrong with modern dating and our society's fixation on online dating. Issa isn't afraid to tackle topics so many women of color face on a daily basis, and even women who can't relate will feel for the pair of friends as they struggle to maneuver everyday life. This show just wrapped up its second season and can be found on HBO.
Atypical
Sam is an 18-year-old from Connecticut with autism, which makes growing up all the more complicated. When his therapist encourages him to start dating, Sam finds himself in the throes of love for the first time, a fact that upsets his concerned mother. The show is as much about Sam's family as it is about him — it follows his mother, who isn't sure what to do with herself when she's not playing Sam's guardian and finds herself in a morally compromising position, his father, who struggles to connect with Sam, and his younger sister, a rebellious athlete who also starts to experience love for the first time. The dysfunctional family is so complicated it's relatable, but the show isn't all drama — in fact, it's mostly heart. You can find the first season on Netflix.
Atlanta
https://www.youtube.com/watch?v=R0_U8ca4040
Another Emmy winner, Atlanta follows Princeton dropout Earn (played by the amazing Donald Glover, aka Childish Gambino) as he tries to redeem himself in the eyes of his parents, his ex-girlfriend and the mother of his child, and his cousin, rapper Paper Boi. As his cousin begins his rise to fame, Earn decides to become his manager in hopes of improving his life. This comedy is subtly hilarious and tackles big social problems such as mental health care, police brutality, transphobia, and racism in an incredibly nuanced way. While there's only one season out and no future seasons in production at the moment, it's still worth a watch. You can find this show on FX.
Chewing Gum
This crazy British comedy follows Tracey Gordon, who grew up in a strict religious household. Despite her incredibly conservative upbringing, Gordon just really wants to have sex, which is difficult when her boyfriend doesn't seem to even want to touch her. She decides to plunge into the dating world again, though she hasn't been single in years, and what happens next is just as awkward as you'd expect it to be. You can find the E4 comedy on Netflix.
The Mick
If you're a fan of It's Always Sunny In Philadelphia, you'll want to check out The Mick, which stars Kaitlin Olsen (aka Dee from It's Always Sunny) as Mickey, an irresponsible woman who suddenly finds herself as the parental guardian of her niece and nephews after her sister and brother-in-law are arrested by the FBI for fraud and tax evasion. The next thing Mickey knows, she's raising three kids with the help of her housekeeper Alba and kind-of-boyfriend Jimmy. It's the sloppy comedy we all need in life, and you can find it on Fox.
Fresh Meat
This British comedy follows six mismatched college freshmen forced to live together under one roof. Each of the students are as different as they can be, but they manage to form a little dysfunctional family as they attempt to navigate the world of university courses and internships. It's full of all the drama you'd expect from a show about being independent for the first time — crazy parties, awkward hookups, repressed feelings, pressure to succeed and the disappointment of failure. If you have bad college memories, it might even be a little too real for you. You can binge-watch this show on Netflix.
Crashing
What happens when you throw six twenty-somethings into a disused hospital and force them to live together under a strict set of rules? A lot of hijinks, that's for sure. Friendships are formed, enemies are made, and paint parties are all just part of the fun — and trust me, there's loads of sexual tension between "just friends" and reluctant roommates. This British comedy is all about forming a family of friends, but it also tackles huge age differences, infidelity, and repressed sexuality. Let's just say that there's definitely going to be at least one couple you ship the hell out of. You can binge this show on Netflix.