Everyone who pays attention to online political drama knows that Donald Trump isn't exactly known for his consistent opinions. Much of what he tweeted a few years ago (and often what he criticized Obama for) directly conflict what he tweets today, and people have definitely noticed. And what better way to laugh at Trump's flip flops in opinions than by wearing them as actually flip flops?
Well, good news, folks: now, you actually can, thanks to President Flip Flops. What better way to pull together your next outfit than with shoes that say "My president is a hypocrite who changes his mind whenever it benefits him most"?
So far, there are three different pairs of the shoes, all of which are equally glorious.
The electoral college edition
"Going back on your word, one step at a time."
Roll up to the pool party and impress your peers by showing them that you aren't blind to Trump's revolving door of opinions.
Syria Edition
"1 small step for man, 2 giant leaps backwards for mankind."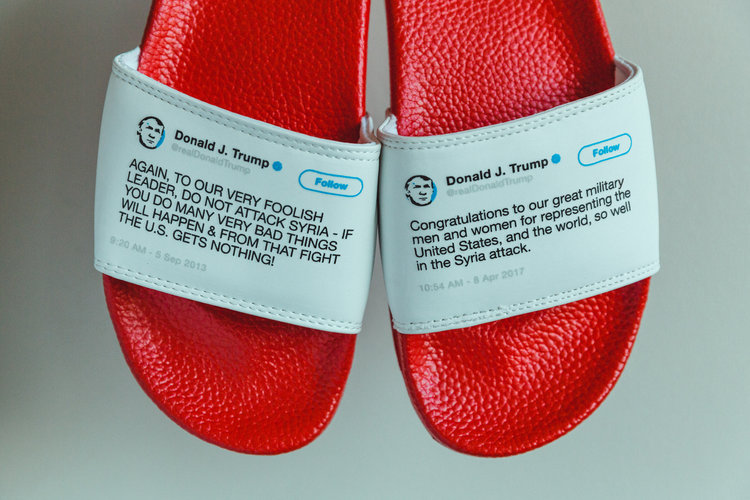 Now you'll never forget that Trump criticized Obama for the same thing he's doing now, even when you're just out walking the dog.
Source Edition
"Walk a mile in his shoes and you'll end up doing a split."
Spend the morning reading the newspaper in the park with the OG Fake News source right on your feet.
You've got to admit, the whole thing is pretty genius.
https://twitter.com/ErlingurEinars/status/908259472845537280
https://twitter.com/Michael_the_Ham/status/908191486772117504
shook pic.twitter.com/tN4nIrRDZ3

— brett callan (@brettcallan) September 14, 2017
I'll take five pairs, please.