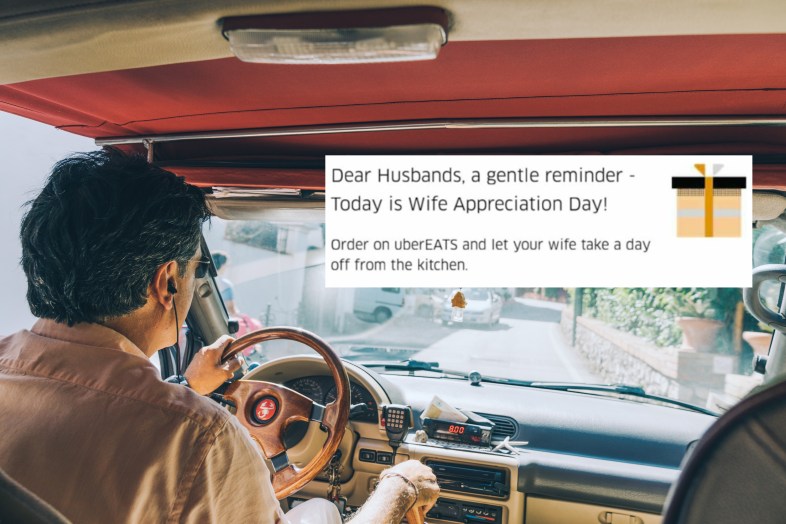 Oh, Uber, sweetie, you just can't stop from digging yourself into a hole, can you? Just this past year, Uber has been criticized for sexual assault allegations and racist ideologies, and now they can add sexism to the list.
Apparently the company decided to remind everyone in India about Wife Appreciation Day and… it did not go well.
Sorry @uber but why do you think that only the "wife" needs to be at the kitchen! 😐 pic.twitter.com/HzjlBsdT34

— Hemanth.HM (@GNUmanth) September 16, 2017
It's no surprise that people took to Twitter to call the company the fuck out.
As a man who's been cooking & doing kitchen duty for over 45 years, I find this sensibility so offensive.

— Ian King 🏳️‍🌈 (@ianking51) September 17, 2017
https://twitter.com/rusbra/status/909150240367943680
Oh hell no. This is completely unacceptable. Will take care of this.

— Bozoma Saint John (@badassboz) September 17, 2017
And in India of all places???
Interesting to see @Uber engaging in this type of gender stereotyping in India, of all places, given criticism of company lately https://t.co/yEfAL5g7Ra

— Iain Marlow (@iainmarlow) September 17, 2017
Thank you @Uber for defining gender roles in India. Of course women are meant to slog it out in the kitchen & the men need to BUY us freedom https://t.co/EW57ZyXdnG

— Rashi (@rashi_kakkar) September 17, 2017
hi @dkhos, @badassboz, would be great if your $69 billion company stopped perpetrating regressive gender stereotypes in India. https://t.co/jr2UXxsBGn

— ¯_(ツ)_/¯ (@PranavDixit) September 17, 2017
Who thought this was a good idea??? Wait, we have an idea.
https://twitter.com/MsKenyanikkii/status/909283695722323968
Uber has since apologized for the incident, but at this point, isn't it all just a shout into the void?
This was totally inappropriate. We've removed it and we apologize.

— Uber Comms (@Uber_Comms) September 17, 2017
Thanks to all the social justice warriors who stood up to sexism and misogyny. Now, who wants to take bets on Uber's next controversy?