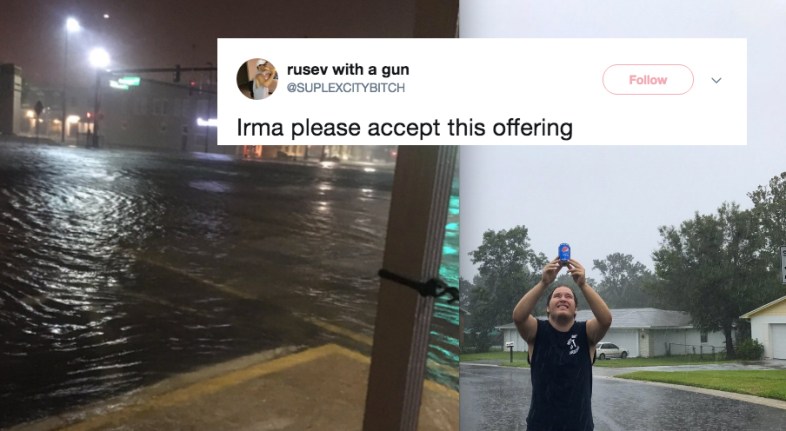 Hurricane Irma has descended upon Florida, and it's definitely left destruction in its wake. Flooded streets, uprooted trees, and destroyed construction cranes are all just a fraction of what the city's looking at in terms of damage.
Here are some #HurricaneIrma photos from our photographer C.M. Guerrero of destruction in South Florida. pic.twitter.com/THt1KZITSk

— Miami Herald (@MiamiHerald) September 10, 2017
About 20 minutes ago, the south end of Biscayne Boulevard was a violent swirl of wind and rain. Near Intercontinental. #HurricaneIrma pic.twitter.com/t8DxryshWg

— Joey Flechas (@joeflech) September 10, 2017
But despite the devastation, people are still finding ways to combat the situation with humor, like this dude on Twitter who decided to give Irma a peace offering.
Irma please accept this offering pic.twitter.com/FPk3ZqzmlZ

— goblin lvl 2 (@SUPLEXClTYBITCH) September 10, 2017
Yes, you're correct, that is a can of Pepsi.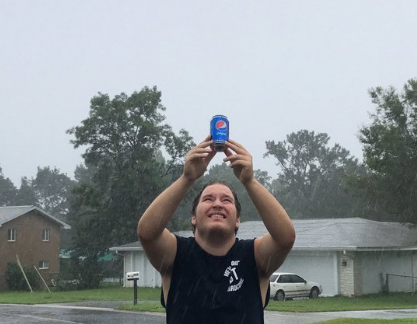 In case you forgot (but LOL how could you), the soda brand and Kendall Jenner were criticized for their advertisement downplaying police violence earlier this year. In the ad, Jenner ~magically~ ended the tension between protesters and police when she handed one officer a Pepsi.
Nevertheless, she Pepsisted. pic.twitter.com/53e6rxLS50

— Matt Negrin, HOST OF HARDBALL AT 7PM ON MSNBC (@MattNegrin) April 4, 2017
I mean, if it can repair police-protestor relationships, why wouldn't it be able to stop a Category 5 hurricane? Makes sense to me. We just have one little critique:
https://twitter.com/hummbrt/status/907037778097197056
Well, let's hope this works.