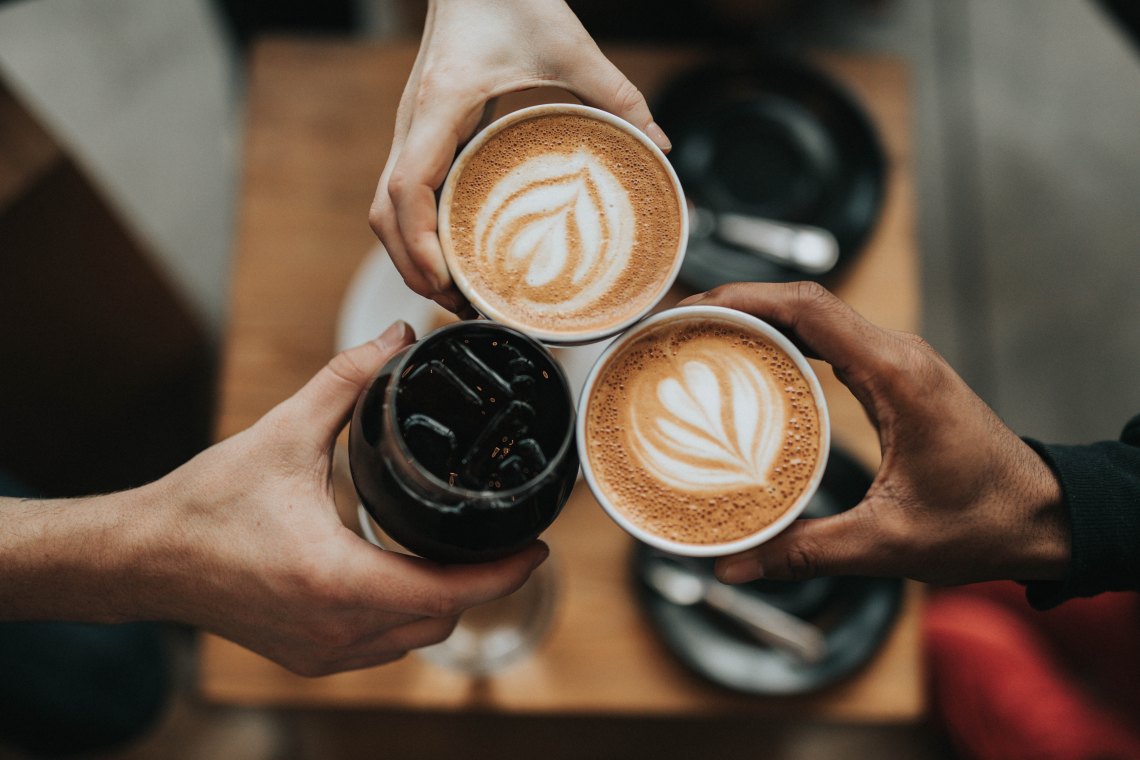 PSA: It's National Coffee Day!!! Ring the alarms, yell it from the rooftop, message all of your group chats because today is the day that the sweetest thing in life comes free: warm, tantalizing coffee.
If you're wondering where you can pick up some of this sweet, sweet nectar of life with little or no charge today, we got you. Just follow the coffee-scented trail (and our directions).
Krispy Kreme
It's no surprise that the doughnut kingdom is offering free coffee for all — and of any size! Get one hot or iced premium blend coffee every day this weekend(!!!!), and maybe throw in a doughnut for good measure.
Dunkin' Donuts
I know y'all were looking for this one, so I won't make you wait. Dunkin' Donuts' deal isn't quite as sweet as some of the others, but we're not complaining — you'll get a free medium coffee with the purchase of a medium or large coffee. This is the place to go with a friend — or, you know, just by yourself if you need that extra caffeine kick.
Celebrate #NationalCoffeeDay, 9/29, with a FREE Medium hot coffee when you purchase a Medium or Larger hot coffee! 💕☕️ pic.twitter.com/uEhAeKjCl0

— Dunkin' (@dunkindonuts) September 26, 2017
Wawa
Oh, my East Coast convenience store of dreams. You can get a free cup of any size coffee here today, which makes me really regret not being in Philadelphia right now. Someone buy a large french vanilla for me, please.
McDonald's
Well, this isn't free, but all their espresso drinks will be for $2 today. It could be worse?
Cinnabon
The sweet pastry store will be giving away from 12 oz. drinks today, so you might as well throw in a fresh cinnamon roll for good measure.
Peet's Coffee
Not quite free, but cheap! You can get 25% coffee bean or get a free drip coffee or tea if you make a purchase.
Love's Travel Stops
If you're on the road this wonderful National Coffee Day, then this one is perfect for you. Love's is offering $1 cappuccinos that will benefit Children's Miracle Network Hospitals. There's literally no excuse not to get one.
Tim Horton's
Who needs a National Coffee Day when you could have a National Coffee Week? At least, that's the ideology at Tim Horton's, where you can get a free coffee of any size for the full week. The catch? Well, you have to download the Tim Horton's app, but honestly, we're talking about free coffee here. Do it for the bigger picture!
Lyft
Just in case you needed a reason to finally delete Uber, Lyft drivers in participating cities will give riders a free can of High Brew Coffee. Guess it's time to call myself a ride.
7-Eleven
If you're a member of the 7Rewards loyalty program, you can get a free cup of coffee anytime this weekend. If you're already a member, it seems worth it.
Starbucks
… is not offering free coffee, but they'll have plenty of signs around their stores detailing their ethical sourcing to remind customers that by paying for coffee, they're supporting the farmers that help make it. Maybe that'll make the $4 feel worth it?