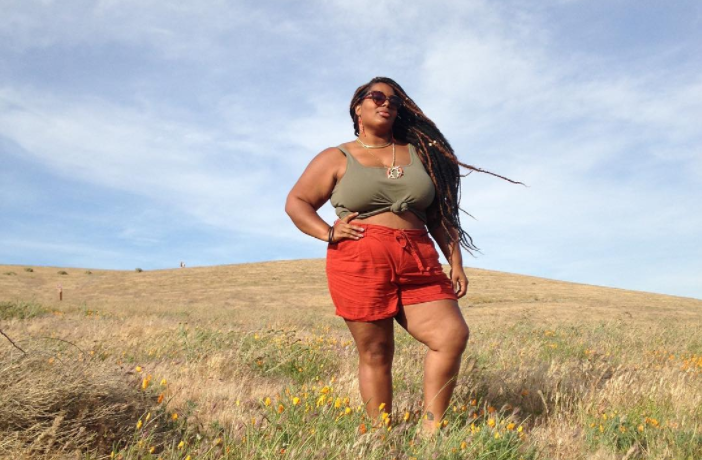 When you search travel-inspo Instagram accounts, you'll usually find posts of thin women posing on a beach, on a cliff, with the Great Wall of China. Rarely do you see women who are overweight or unconventional, which is what this traveler wants to change.
Annette Richmond is a self-proclaimed "fat girl" and world traveler. She noticed that when she traveled, she saw a lot of curvy women, but she rarely saw them represented in travel blogs or Instagram accounts.
"I'm out here traveling and I'm seeing the world — I know we're out here," Richmond told Mic. "But I feel like these bigger profiles or companies don't feature curvy or fat girls."
That's what inspired Richmond to start the #FatGirlsTraveling hashtag — and later an Instagram account and private Facebook group for bigger women to voice their concerns and share their experiences.
Richmond's goal? For women to reclaim the title "fat" without feeling shame and to encourage them to see the world, even if they're nervous. She told Mic:
"I get so many members in the group who are so nervous to be on the plane. Maybe the seat is a little too tight or maybe their leg is spilling over or they want to ask the person next to them to lift the armrest or they're having anxiety about asking for a belt extender. People have a lot of anxiety around this stuff and it's nice to have a community where we can talk about it and encourage each other and let them know like, "Girl the person that's snoring is going to be worse than sitting next to someone who's a little fluffy."
Richmond's social media accounts are so important for women who struggle with body image. It can be difficult to get out of your comfort zone when you don't even feel comfortable about yourself, which is why accounts like these are so important — if women see people they identify with traveling and seeing the world, they'll feel more comfortable with the idea of trying it. Representation matters, which is Richmond's whole point.
"It's nice to be able to appreciate our bodies and ourselves for where we are — not in 10 or 20 pounds," Richmond said. "Everyone has their own goals, but we have to love ourselves the way we are now. We have to love women the way they are now and encourage them to love themselves no matter what their weight."