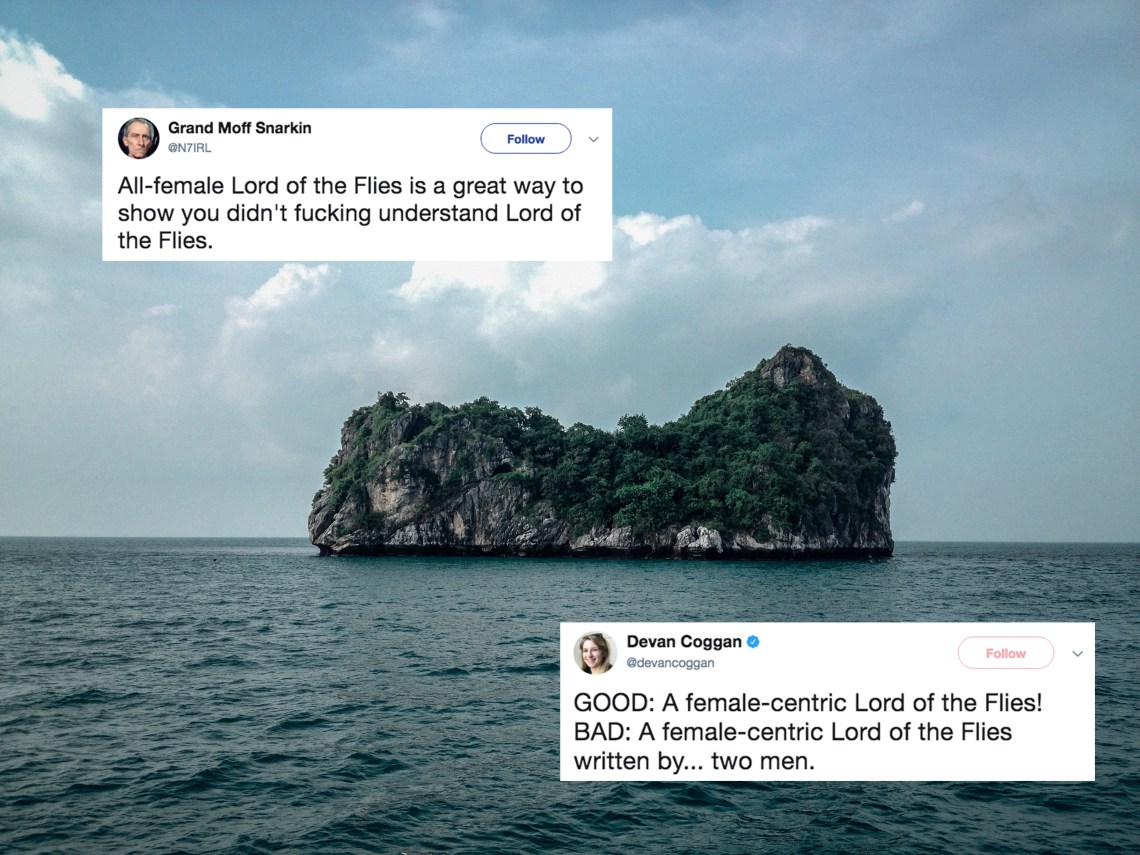 We are in the era of women-centric remakes of old movies, which is… well, good and bad? I'm all for representation for women, but also somewhat confused about why we have to recycle old plots to get it. I guess it's better than nothing?
The next piece of work to get this treatment is Lord of the Flies, based off the novel by William Golding about a group of young boys who get stranded on an island, where chaos ensues. What else could you expect from a group of teen dudes? Or now, I guess, a group of teen girls?
There were a lot of mixed reactions about the announcement, especially when it was announced that the movie's writers were men.
GOOD: A female-centric Lord of the Flies!
BAD: A female-centric Lord of the Flies written by… two men.https://t.co/26CBGu4lMj

— Devan Coggan (@devancoggan) August 30, 2017
Lord of the Flies, but with women, and also written and directed by two men! This couldn't POSSIBLY miss the mark! https://t.co/hxJMXg4Rsd

— Jordan Crucchiola (@JorCru) August 30, 2017
Dudes writing a female version of LORD OF THE FLIES is like a gift to the problematic think piece gods…

— Scott Mendelson (@ScottMendelson) August 30, 2017
But also, would the plot even be the same with all women?
https://twitter.com/rgay/status/903067493966766081
The female-led Lord of the Flies wouldn't ever happen because women would just branch off into their own respective groups peacefully

— rachel leishman (@RachelLeishman) August 30, 2017
But also a all-women Lord of the Flies kind of misses the point of, well, the whole entire novel, considering Golding was pretty open about the fact the book was about toxic masculinity.
https://twitter.com/GALaBonty/status/903049968780419072
I barely paid attention to the unit on lord of the flies (sry teacher) and even I know there was a reason it was all boys on that island

— lex™ @ home✨ (@cosphotographs) August 31, 2017
https://twitter.com/rachsyme/status/903030302272098306
https://twitter.com/nightheatre/status/903073712483815425
All-female Lord of the Flies is a great way to show you didn't fucking understand Lord of the Flies.

— Grand Moff Snarkin, The Funkular Fury (@N7IRL) August 30, 2017
Besides, haven't we already explored this topic before…?
A thousand words on how they already did an all-girl Lord of the Flies and called it Mean Girls.

— Courtney Enlow (@courtenlow) August 30, 2017
Actually, it's called Heathers, but yeah. 🤓😉✌️ pic.twitter.com/vGDzTFP8qd

— Canuck Twit 🇨🇦 (@CanuckTwit) August 31, 2017
Can we just stop production immediately? Thanks.