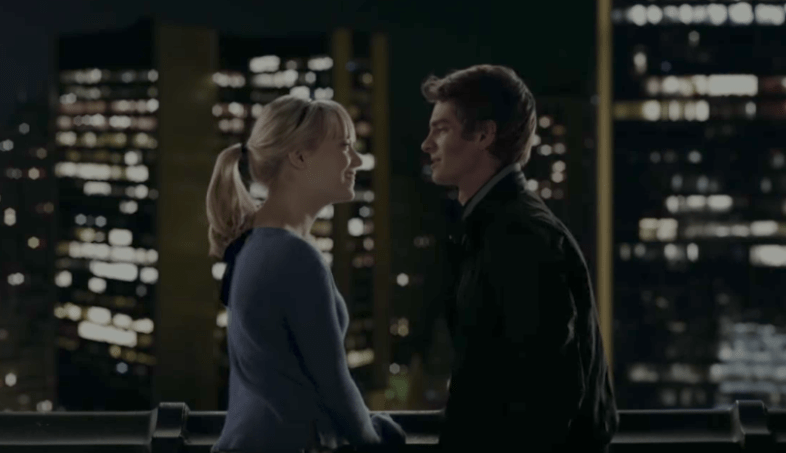 In a world where Anna Faris and Chris Pratt have separated, Beyoncé and Jay-Z have openly addressed their marital issues, and Rachel McAdams and Ryan Gosling haven't been an item in years (he wrote you 365 letters, Allie!), it's easy to feel that love is truly dead. If our favorite couples can't get their happily ever afters, how can we?
But! Wait! Good things are happening — at least, dear god, I hope they are. Because Emma Stone and Andrew Garfield, AKA Spiderman and Gwen Stacy, might be getting back together. The two dated for several years after meeting on the set of Spiderman, and the two never had enough great things to say about each other.
Seriously, JUST LISTEN TO HIM. He's obviously smitten, and this is before they were publicly dating.
The two broke up in 2015, which was absolutely devastating for us common people (OK me whatever), but it looks like all my wishes have been granted! No, world hunger has not been solved, Trump is still president, and I am still filled with a constant state of dread, but let's just take things one step at a time, OK?
Stone has supposedly been popping over to the UK to visit Garfield, and according to one source, the pair still obviously love each other. Not that we're surprised after the way Garfield said she'd be the one thing he'd bring with him to a desert island and gushed about her in an interview with Vanity Fair:
"We care about each other so much, and that's a given, that's kind of this unconditional thing. There's so much love between us and so much respect [. . .] I'm her biggest fan as an artist. So for me, it's been bliss to be able to watch her success and watch her bloom into the actress that she is. And it's also been wonderful to have that kind of support for each other. It's nothing but a beautiful thing."
Yeah, just try to tell me he's not hopelessly in love with her. I'm waiting.
Anyway, no pressure, Andrew and Emma, but PLEASE get back together and restore my faith in the universe. Thank you.