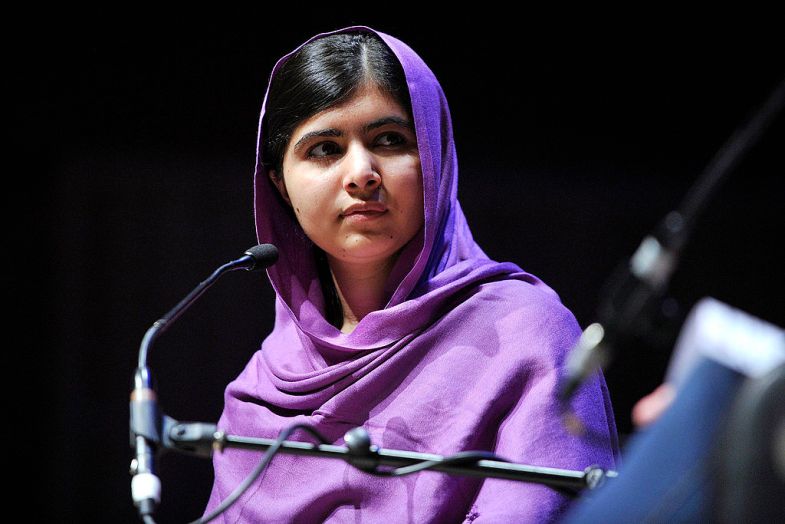 Malala Yousafzai, the amazing Pakistani teen who has fought for women's education and the youngest-ever Nobel Prize laureate, just celebrated her high school graduation by joining the rest of us lesser human beings on Twitter. Of course, it isn't without a cause.
Hi, Twitter.

— Malala (@Malala) July 7, 2017
Though the account was created in 2012 (and has already been verified), Malala sent out her first tweets today, sending the Twitterverse into a frenzy. The women's rights advocate, who (unsurprisingly) already understands Twitter much better than I d0, immediately started a new thread to explain her mission:
Today is my last day of school and my first day on @Twitter [THREAD]

— Malala (@Malala) July 7, 2017
Graduating from secondary school (high school) is bittersweet for me. I'm excited about my future, but… 2/

— Malala (@Malala) July 7, 2017
….I know that millions of girls around the world are out of school and may never get the opportunity to complete their education. 3/

— Malala (@Malala) July 7, 2017
Next week, I will be back on my #GirlPowerTrip to meet girls in Middle East, Africa & Latin America. 4/

— Malala (@Malala) July 7, 2017
Each girl's story is unique  —  and girls' voices are our most powerful weapons in the fight for education and equality. 5/

— Malala (@Malala) July 7, 2017
On and off Twitter, I'm fighting for girls —  will you join me?​✋🏾 6/

— Malala (@Malala) July 7, 2017
Of course, everyone is thrilled that she has decided to grace us on our favorite form of social media.
Welcome aboard, Malala! ❤❤❤ https://t.co/vTGZlnhWpH

— Maria Memon (@Maria_Memon) July 7, 2017
Blessing my Friday pic.twitter.com/xEA6MDNFdz

— Euna Park (@eunapark) July 7, 2017
Hi, Malala! Good to see you on Twitter! Can't wait to see what you have in store for the world. https://t.co/E3L77wFyfy

— Jacob Wycoff (@4cast4you) July 7, 2017
Welcome, Malala. May your bravery become contagious, may your courageous fight against the repression of women and girls, inspire us all.

— VISHAL DADLANI (@VishalDadlani) July 7, 2017
I welcome @Malala to Twitter, where she will bring her unique dedication and inspiration on behalf of girls' education. pic.twitter.com/Vwkr9qJAnb

— António Guterres (@antonioguterres) July 7, 2017
Seriously impressed by this girl on so many levels.
@Malala 's first day on Twitter and she already knows how to do a thread. Kids these days. Welcome.

— Mohammed Hanif (@mohammedhanif) July 7, 2017
Thank you so much for your kind words. Together we have "To strive, to seek, to find, and not to yield."

— Ziauddin Yousafzai (@ZiauddinY) July 7, 2017
If we know anything about Malala, it's that she knows how to fight the good fight. I'm sure we're going to be seeing a lot of great material from her, so be sure to follow @Malala to keep up with her latest causes and to see how you can help.