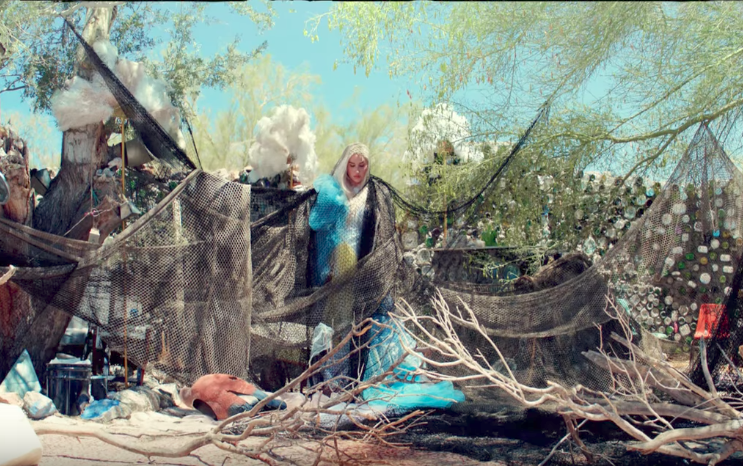 Kesha (or, as we used to know her as, Ke$ha) just dropped her new single, "Praying", and it's pretty obvious that she's not the woman we used to know. And honestly, I think she wants it that way.
The pop star hasn't recorded new music since 2013, when her legal battle with her producer Dr. Luke began after Kesha accused him of emotional abuse and sexual assault. The experience shaped Kesha as both a person and a songwriter, as displayed in "Praying" — unlike party girl anthems "Tik Tok" and "We R Who We R", "Praying" shows both a haunted and a spiritual side of Kesha we haven't seen before.
The music video starts with a voiceover as Kesha lies in a coffin (and then later on a piece of debris in the middle of the ocean):
Am I dead? Or is this one of those dreams? Those horrible dreams that seem like they last forever. If I am alive, why? Why? If there is a god or whatever, something, somewhere, why have I been abandoned by everyone and everything I've ever known, I've ever loved, stranded? What is the lesson? What is the point? God, give me a sign or I have to give up. I can't do this anymore. Please just let me die. Being alive hurts too much.
Despite the dark intro, the song turns into an empowering ballad directed toward her abuser.
Well, you almost had me fooled
Told me that I was nothing without you
Oh, but after everything you've done
I can thank you for how strong I have become

'Cause you brought the flames and you put me through hell
I had to learn how to fight for myself
And we both know all the truth I could tell
I'll just say this is I wish you farewell
Though the whole song is a poignant nod to her struggles, perhaps the most powerful part of the song is the chorus,:
I hope you're somewhere praying, praying
I hope your soul is changing, changing
I hope you find your peace
Falling on your knees, praying
Fans were definitely glad to have Kesha back. Though "Praying" wasn't the electropop banger we've grown used to getting from Kesha, it was everything we could have hoped for.
Chorus – Brilliant
Message – Beautiful
Visual – Unstoppable
Vocals – Chilling

I could go on …

— James Harness (@JamesHarness) July 6, 2017
OMG #PRAYING IS INCREDIBLE @KESHAROSE!!!!! everyone go support kesha's new song its amazing I'm crying https://t.co/Tcx46o4gyz

— Ricky Dillon (@RickyPDillon) July 6, 2017
https://twitter.com/itsmenialln/status/882942433230819328
I missed Kesha so much 💛 her new song is amazing

— 𝑳𝑰𝑽𝑰𝑨 🌸 fuck the police (@liviatsang) July 6, 2017
Kesha not only served us visuals with intense meaning, but a groundbreaking song with power and VOCALS. We welcome her back with open arms.

— lohanthony (@lohanthony) July 6, 2017
I am just so happy for Kesha, and I am so EXCITED for this album. pic.twitter.com/4CsKkDHbvM

— Daniel (@sillyolddaniel) July 6, 2017
"Praying" isn't the end of it, though — in just a few weeks, we'll have more more music from the goddess Kesha herself.
It's actually so wonderful to know we'll have a @kesharose album in five weeks.

— nic kelly (@nicwkelly) July 6, 2017
I'm not sure I can handle the musical genius that Kesha is about to throw our way, but god, I'm ready anyway.