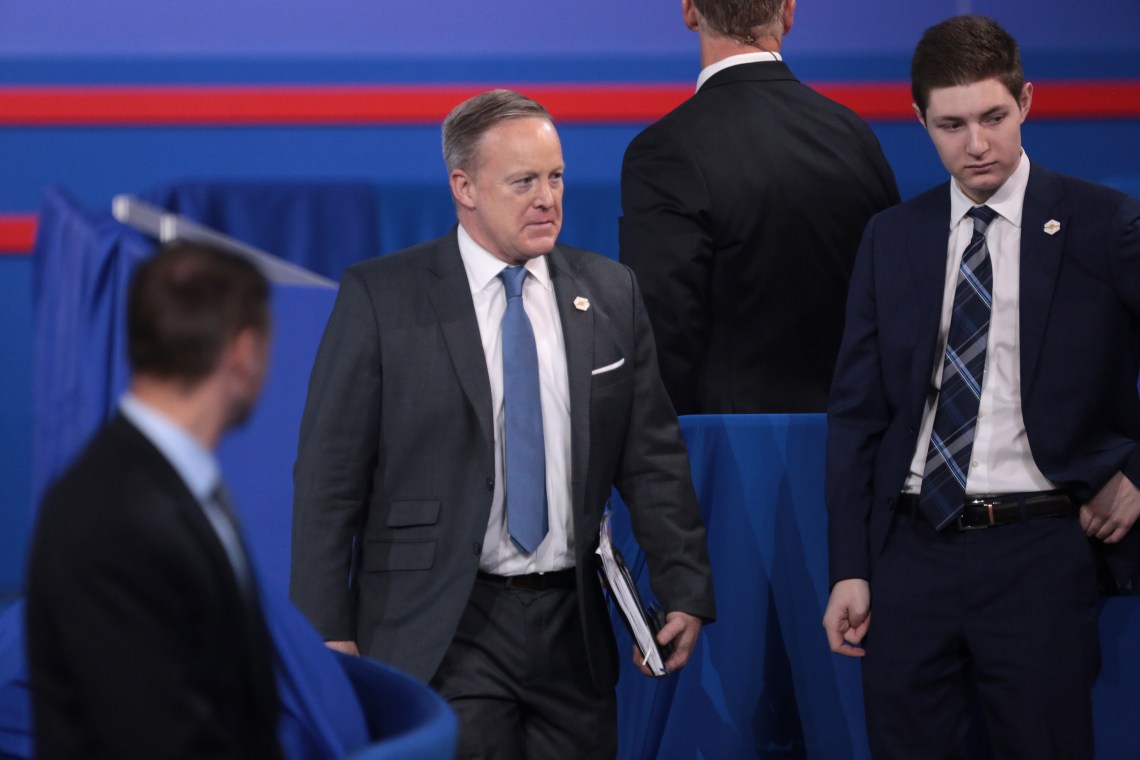 As White House Press Secretary, Sean Spicer was certainly one of the more talked-about member of Trump's cabinet, probably because a big chunk of his job involved him being in the spotlight. And let me tell you, the spotlight was not kind to him.
if twitter this past week was a person here he is pic.twitter.com/r9JM0tP7ee

— chris melberger (@chrismelberger) April 11, 2017
Today, Spicer officially resigned from the position, a mere six months after he got the position. And in a weird way, we'll miss him. But mostly, we'll just miss the memes. Here our some of our favorites from Spicer's time in the White House.
2. There was that time he tweeted what we all assume was his Twitter password (and if it wasn't, just wondering — you OK, Spicer?)
3. Personally, I enjoyed that one time he wore his American flag pin upside down.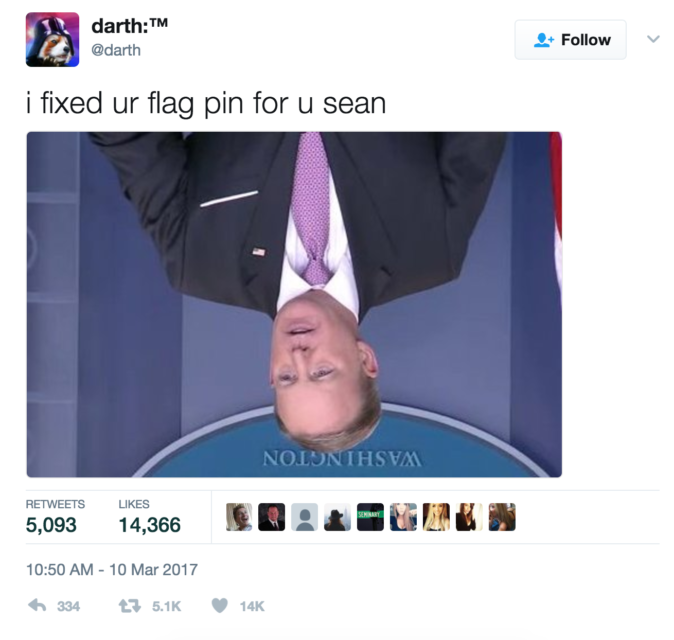 4. Or that time he swore there were 1.5 million people at Trump's inauguration.
Guess the number of jelly beans.

Me: 87
Wife: 134
Sean Spicer: 1.5 million #spicerfacts pic.twitter.com/dq7MmhgG3H

— 𝕞𝕒𝕣𝕜 𝕫𝕠𝕙𝕒𝕣 (@markzohar) January 22, 2017
5. Or when he hid in the bushes to avoid Comey questions.
"Sean Spicer reportedly hid in the White House bushes after firing of James Comey" via @mic. https://t.co/ob3py4j85P pic.twitter.com/DAalc8j1E2

— Jacob Dean (@SchadenJake) May 10, 2017
6. Why did he always act like saying "period" at the end of a claim automatically made it true?
"Donald Trump has the biggest hands of any President in history. Period." #SpicerFacts pic.twitter.com/tnSyOUspmR

— Take Back PA 🌊💪✌ (@ResistBLOTUS) January 22, 2017
7. Bonus: Melissa McCarthy playing him on SNL. Because everything about that was brilliant.
"I'm here to swallow gum. And I'm here to take names." #SNL pic.twitter.com/bS6XdX1N7i

— Saturday Night Live – SNL (@nbcsnl) February 5, 2017
I'm sure we'll see you around somewhere soon, Spicer. We've got a few guesses where…
Can't wait to see Sean Spicer waltz on Dancing With the Stars.

— Zach Braff (@zachbraff) July 21, 2017
Until then, we're going to have to find someone new to meme.