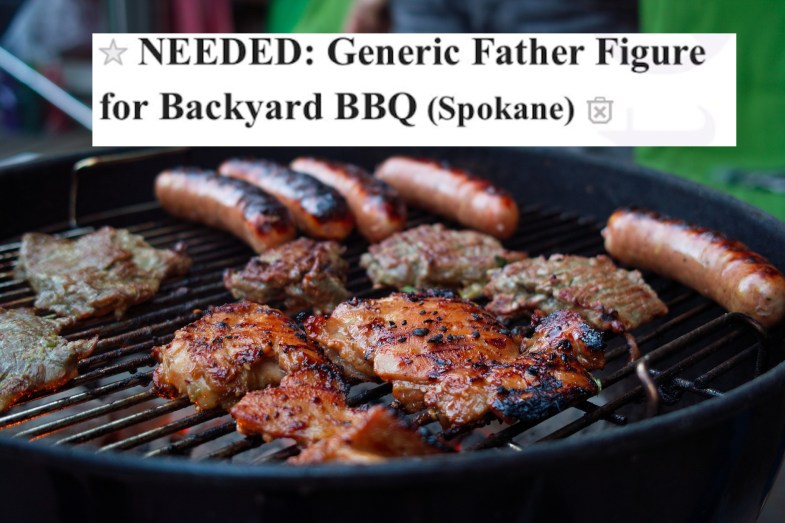 Oh, Craiglist, what a strange place you are. I've found plenty of interesting things on it — instruments, graphic cards, furniture, even roommates — but this is the Craiglist ad to rule them all: these guys are looking for a generic father figure.
We've reached peak Craigslist in Spokane… pic.twitter.com/VpFINASpHJ

— Lindsay Joy (@LindsayJoyTV) June 2, 2017
The Spokane, Washington ad, which is now deleted, is both hilarious and genius.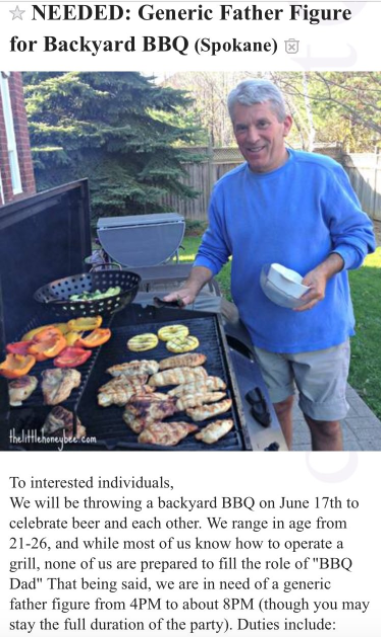 And apparently, the guys actually heard back from a few people, including one guy named Jerry who said they could call him "Dave" or "Bill" instead.
Update: meet the guys behind the hilarious BBQ Dad ad https://t.co/RZtawWWfRh via @KHQAndrea pic.twitter.com/2KBb612oc5

— Lindsay Joy (@LindsayJoyTV) June 3, 2017
And of course, people on Twitter were loving it.
https://twitter.com/Henderburn/status/870792322434334721
peak spokane & peak craigslist & peak dad twitter all at once

— Lindsay Joy (@LindsayJoyTV) June 3, 2017
I'm thinking reality, not sitcom

— myownpetard with a mask (@myownpetard) June 3, 2017
We may have even found a few good candidates.
This is like the dad bat signal. I wouldn't be surprised if every dad in America showed up

— Zanders (@ZachAndersTV) June 3, 2017
maybe walk everybody through appropriate humidity levels when you're aging hardwoods

— #AbolishThePolice (@ADAMATOMIC) June 3, 2017
My dad would ace this… But his name is Clarence… and he lives in the UK. Not sure he's allowed to bring a griller on the plane.😂🍡🍢🍔🍖🍗

— Real Marsha Wright® | http://www.RECIPROCATE.network (@marshawright) June 4, 2017
.@SWXLindsayJoy i texted this listing to my dad he's in. complete with dad jokes pic.twitter.com/CiHDDKSOxp

— super spicy knife (@rockolla) June 3, 2017
I mean, can you blame them? Sometimes all we need is a nice BBQ and some guy named Dave to crack open a cold one with.