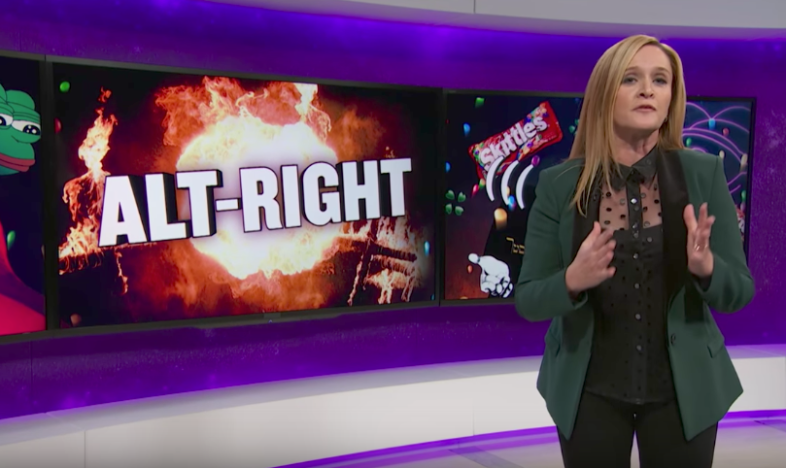 Milo Yiannopoulos certainly has his following, but he also definitely has a lot of people who, put plainly, hate him. And with his record of name-calling and controversial opinions, it's easy to see why.
While Yiannopoulos has remained somewhat quiet since he stepped down from Breitbart news — or, at least, has become somewhat silenced ever since his platform was taken away — that doesn't mean he still doesn't have a lot to say. Someone from his PR team recently reached out to Samantha Bee, host of Full Frontal, but it comes as no surprise that Bee's team wasn't having it.
.@HannahAWright doesn't normally reply to PR emails, but… pic.twitter.com/0Up7rLrrvk

— Full Frontal (@FullFrontalSamB) June 15, 2017
Many people applauded Bee and her team for promptly shutting Yiannopoulos down, because honestly, a lot of people aren't really interested in hearing more about "the man behind the myth".
Thank you.

— Dan Telfer (@dantelfer) June 15, 2017
this is beautiful

— Katie Minard (@KatieMinard) June 15, 2017
that's our girl! 👊💪😍

— Peaches (@peaches) June 16, 2017
— "ᴅᴏᴇꜱ ɴᴏᴛ ᴘʟᴀʏ ᴡᴇʟʟ ᴡɪᴛʜ ᴏᴛʜᴇʀꜱ" Badger ಠ_ಠ (@stealthbadger) June 15, 2017
People also used it as a chance to throw shade at another certain political commentator…
Somebody show Megyn Kelly how to do this…

— Jody Wallace (@jodywallace) June 15, 2017
But it's just a matter of time before @megynkelly grants him an in depth interview.

— Biden Is Our President (@xanthas11) June 15, 2017
If only we could get Hannah to give Megyn Kelly lessons, the world would be a better place.

— Amanda Sowards (@AmandaSo) June 15, 2017
Bravo- see, @megynkelly? It's easy to turn down an interview with human garbage!

— Cati (@iz_bop16) June 15, 2017
Hey @NBC, *that's* how to reply when an evil, extremist liar offers an interview. #ShameonNBC #ShameonMegynKelly

— aliki (@alikifoley) June 15, 2017
Thank you, Samantha Bee and Hannah Wright, for continuing to make the world a brighter place.