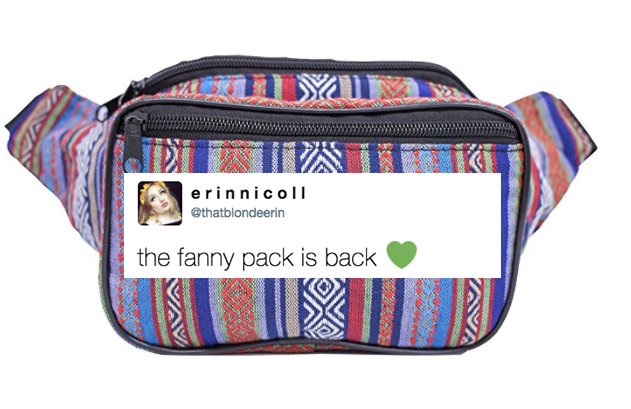 Ah, fanny packs — the perfect part of any aesthetic. I still remember back when I used to beg my parents to buy me one and cried when they told me they would absolutely never condone that sort of fashion choice. I was eight, and to this day I'm still bitter.
But luckily for me, my childhood dreams look like they might be coming true! Because fanny packs are back, and now that I make my own paper (no thanks to you, Mom and Dad), I can finally buy a fanny pac of my own.
Kendall Jenner teams a shoulder-less romper with a Louis Vuitton fanny pack as she heads to NYC https://t.co/iEc1jttpxs pic.twitter.com/qzlDL7pAHR

— Daily Mail Celebrity (@DailyMailCeleb) June 2, 2017
Seriously, guys. Forget what your grandma used to wear to the grocery store — we're talking high fashion fanny packs.
https://twitter.com/TheFashionLaw/status/871568762075480064
We are ECSTATIC and nothing you say can change our minds!!!
I wish her luck. I still have all of mine from the 1990's and would love to wear them again without being mocked! https://t.co/mbZNCfrzqm

— ValerianTX (@ValerianTexas) June 5, 2017
Only b/c of the fanny. My cousin got me a Coach one from the flea market and i loved it. I will get my Fendi fanny pack! https://t.co/asxP4BuB7v

— Dulce (@__dulceria__) June 4, 2017
the fanny pack is back 💚 pic.twitter.com/QAWBQpE7FG

— YA GAL EZ (@thatblondeerin) June 2, 2017
https://twitter.com/squirlllfren/status/871938936200863744
actually,@KendallJenner , i made the fanny pack a thing and you better not steal the retainer pic.twitter.com/yPIO5RVIaC

— pebe (@thisgirls1Daf) June 2, 2017
Face it, fanny packs are great in so many ways. Not only are they fashionable (don't @ me), but they can cover that awkward part of your stomach that you (see: me) feel self-conscious about AND they're just so dang useful.
On trend or not – fanny packs ARE quite sensible. So.

— Tegan and Sara (@teganandsara) June 8, 2017
https://twitter.com/KIMBERLY7BROWN/status/870658021642424320
Of course, not everyone loves it.
https://twitter.com/Antisocial_Kwan/status/872548411765084160
The answer is never the fanny pack 🙄

— Silje (@SiljeRis) May 29, 2017
I am not down with this fanny pack @ the bar trend.

— emo burrito (@Julia__Garrett) May 29, 2017
But honestly, I could care less about you and your second-rate opinions.
https://twitter.com/kittiecatss/status/872159386738855937
https://twitter.com/migferny/status/869269613963554816
Is this the newest trend of 2017?
Me: "I hate fanny packs."
Chyler: "I think fanny packs are cool."
Me: pic.twitter.com/q3ChFzmTnm

— ~rae :) | bly manor (@sanvers_rae) April 28, 2017
*squints up at the heavens*

god give me the strength not to lean so far into my basicness that i buy this unicorn fanny pack/drink holder pic.twitter.com/N9t49bFfYl

— emma lord (@dilemmalord) May 7, 2017
Idgaf, honestly, I'm wearing one anyway.
I'm that lady you pass on the trail wearing a fanny pack. pic.twitter.com/adKTQVgI7t

— Monique Frausto (@MoniqueFrausto) March 18, 2017
All u need in life is a lime green fanny pack pic.twitter.com/TxAIFAYpGb

— mðll¥ mððrê (@MissMollyMoore) March 3, 2017
All I'm saying is, if you're going to make fun of my fanny pack, don't ask me to hold your phone in it for you.