What better way to watch Comey's testimony than over a cold, Russian vodka with friends? Well, if you live in DC, Houston or San Francisco, you may be in luck.
Several bars are opening early on Thursday morning to screen the testimony and offer customers themed drinks and food in spirit of the day.
Shaw's Tavern in DC is serving $5 Russian vodkas and "FBI" sandwiches to their patrons. "Grab your friends, grab a drink and let's COVFEFE!" the restaurant wrote on Facebook.
But Shaw's Tavern isn't the only bar and restaurant who plans on showing the testimony.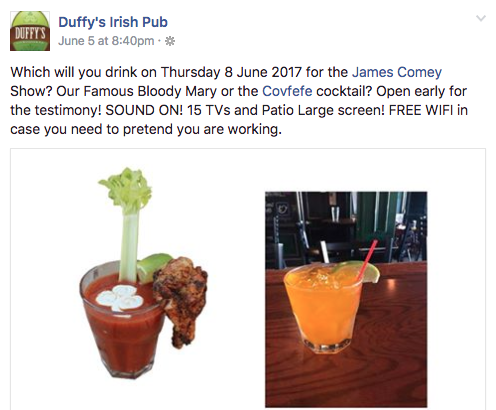 New drinking game: take a sip of your Covfefe Cocktail every time you hear the word "Russia". It'll make the screening fun and easier to swallow!
Other bars include Axelrad Beer Garden in DC (whose event is called "SUPER BOWL of Washington), Clooney's Pub in San Francisco, Ace's Bar in San Francisco and Gina & Carlo's in San Francisco.
So drink up, friends. You're gonna need it.