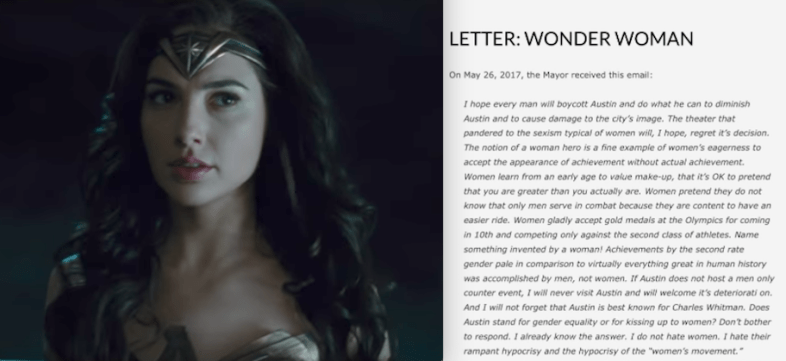 There's been a lot of controversy over the Alamo Drafthouse cinema's decision to have an all-female viewing of Wonder Woman in Austin, Texas. It's pissed a lot of people (namely men) off, and they refuse to stay silent about it.
One man sent this letter to Austin's mayor expressing his dismay about the event in perhaps the most sexist way possible.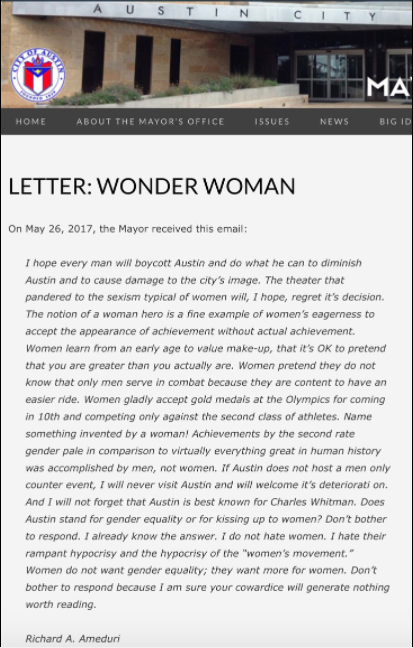 Yes, this man does not hate women. He just believes they are the "second rate gender."
https://twitter.com/DamienWilkens/status/870124081345163265
I don't think Richard was planning to see Wonder Woman anyway. Hate to see how fired up he'd get if they did a women-only Fast and Furious

— Kenyon Gagne (@KenyonGagne2) June 1, 2017
https://twitter.com/Wimlar/status/870148834235756544
Not surprisingly, Mayor Steve Adler didn't take the message well. What was surprising, however, was how amazing his response was.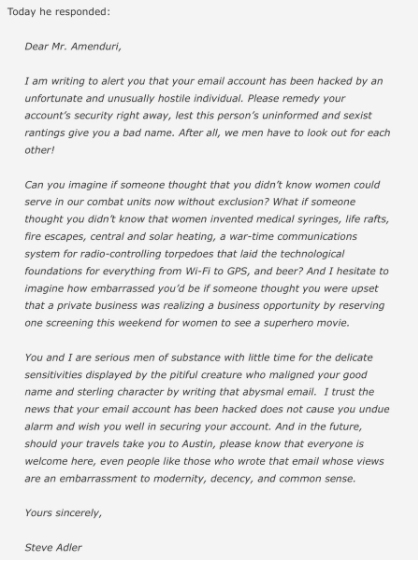 Mic. Drop.
If you ask Austin's mayor to "Name something invented by a woman!" he's gonna respond, sincerely. https://t.co/xEXv8CKW4t pic.twitter.com/lOkHLEJD3N

— Alyssa Vidales ☕️ (@instalyssa) June 1, 2017
People were impressed by Adler's on-point response, which was somehow both classy and savage.
https://twitter.com/micsha_maha/status/870107360357892097
https://twitter.com/kelly_roles/status/870111863341588480
Austin's @MayorAdler made like a tree and threw shade. 😎 https://t.co/tSxPdFmjOs

— shauna (@goldengateblond) June 1, 2017
https://twitter.com/PezDOY/status/870302718786719744
Of course, people from Austin wouldn't expect anything less.
People all over the country posting about how great @MayorAdler is. Austinites are like, "Yawn. Tell us something we don't already know."

— Wendi Aarons (@WendiAarons) June 1, 2017
Sometimes I'm not proud that I'm from Texas, but better believe that I'm damn proud that I'm from Austin. https://t.co/tCSBWgtHhd

— Matty-P (@Matt_Pichette) June 1, 2017
Beautifully done. Really, really proud to have Adler as mayor. There is still some sense in Texas.

— 🥂Lady Von Titzen-Arsch🥂 (@texpatriate) June 1, 2017
On a related note, how about this: Mayor Steve Adler for president.