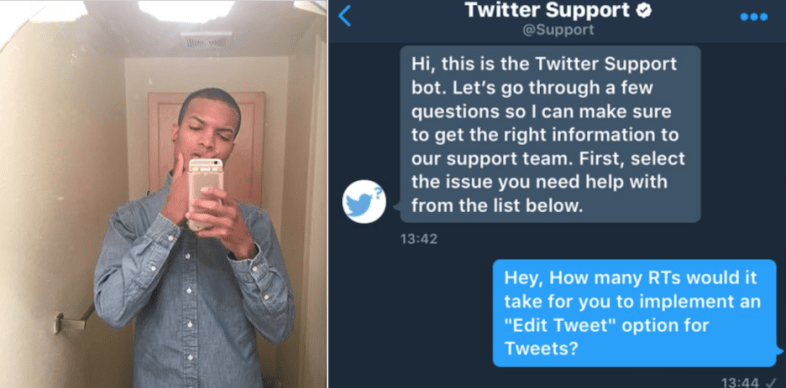 Everyone drop everything immediately and get on Twitter — just a single RT could help change the future, literally.
In the age of social media, one of the biggest hardships one can endure is thinking up the perfect joke and tweeting it out, only to realize hours later that you used the wrong form of "there" and now look like a total idiot. You could delete it and risk losing all the likes and retweets it already has so you could tweet out a new, improved version. Or, alternatively, you could just leave it be, where it will sit idly on your Twitter feed, forever a reminder that, OK, maybe you are an idiot.
So, what do you do? Well, this man might have the perfect answer.
Twitter user @RodriguezThaGod messaged Twitter Support about the possibility of an edit option on tweets, and they didn't exactly say no.
https://twitter.com/RodriguezThaGod/status/863816153340284929
That's right — just like the Wendy's nugget man, Twitter was willing to make a compromise. If he can get 450,000 retweets, Twitter will start working on an "edit tweet" option.
So yeah, everyone go RT this immediately so I can stop looking like a total idiot on Twitter. Please and thank you.