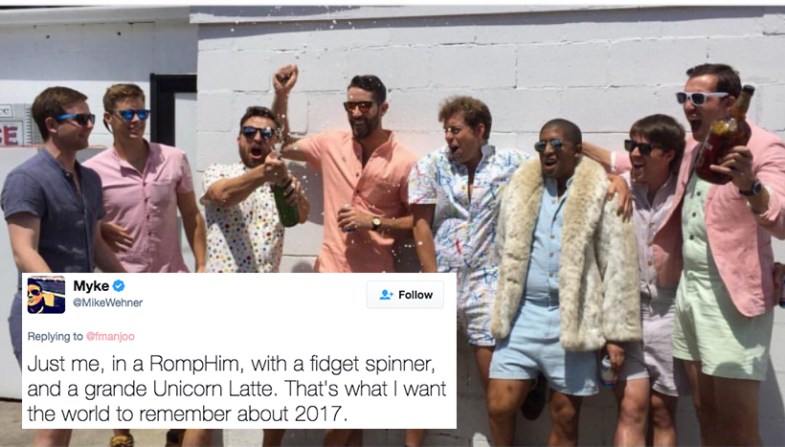 Tired of hearing all your guy friends complain that women "have it better" when it comes to fashion? Well, luckily for them they can all just shut up now because they, too, can join in on one of the biggest crazes in female fashion.
A lot of ladies love the classic romper (except when they have to pee), and now guys can be part of the fun, too, thanks to the RompHim.
https://twitter.com/4evrmalone/status/864183634194026496
RompHims are described on Kickstarter as the possible beginning of a "fashion revolution," though some argue that it's more of a fashion disaster. Like the women's romper, the RompHim is a one-piece made from a single kind of fabric that looks a bit like a shortened onesie. Don't worry, it comes in the classic pastel colors that all bros know and love.
https://twitter.com/willystaley/status/864189584703451137
Still, I can laugh about it all I want, but I can't deny their popularity when, only one day after the Kickstarter campaign began, they already had $53,940 pledged to the project, which was five times their original goal. So, yeah, I guess people are interested?
I'd legit wear a romphim. https://t.co/MzGE4dQbXt

— Dana Wessel (@DanaWessel) May 15, 2017
https://twitter.com/MikeWehner/status/864192030880256001
Unlike the original romper, the RompHim comes with deep pockets (you won't find those in women's fashion!) and a zipper in the front to make it easier to use the bathroom, which seems a little unfair. Male privilege, am I right?
https://twitter.com/aaaisela/status/864189426296999936
https://twitter.com/aaaisela/status/864189836332224512
It'll definitely be the conversation starter you always needed.
https://twitter.com/benbosk/status/864190121213612035
https://twitter.com/benbosk/status/864191551173529600
So if you want it, fuck it, why not? I've definitely made some questionable fashion choices and I only regretted some of them. After all, the RompHim might not make you the most popular person at the party, but it'll definitely make you the most talked about person at the party, and that's almost the same thing.