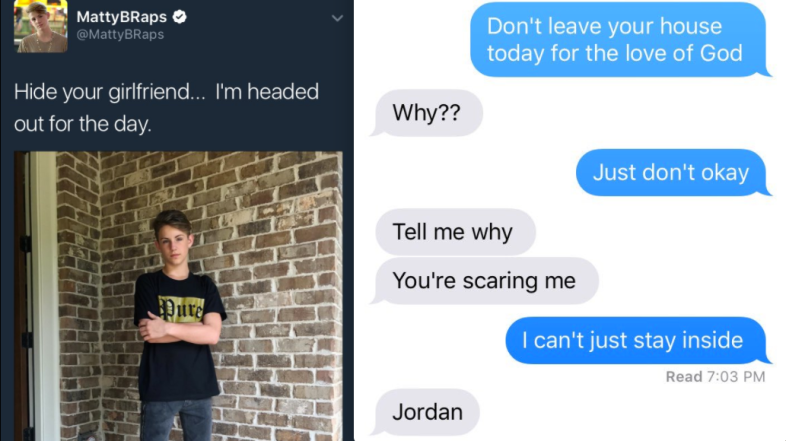 If you haven't heard of MattyB, you're not the only one. In fact, I'd never even heard the name before until this tweet from a guy telling his girlfriend to "watch out" for the 14-year-old rapper went viral.
https://twitter.com/Zrowable/status/858442893522083844
MattyB is the star of an incredibly popular YouTube channel called "MattyBRaps", which has over 8 million subscribers. Most of the teen's success comes from the Internet — he has a huge social media following, which has garnered him a book deal and meet and greets all over the country. That's more than I can say for myself at age 14, that's for sure.
https://www.youtube.com/watch?v=fsbW4U2Mwfk
So why am I talking about MattyB? Because of this tweet, which caused people everywhere to start trolling their girlfriends.
Hide your girlfriend… I'm headed out for the day. pic.twitter.com/dmXLx06Ewb

— MattyBRaps (@MattyBRaps) April 29, 2017
It all started when Twitter user Jordy texted his girlfriend this ominous message after seeing MattyB's tweet: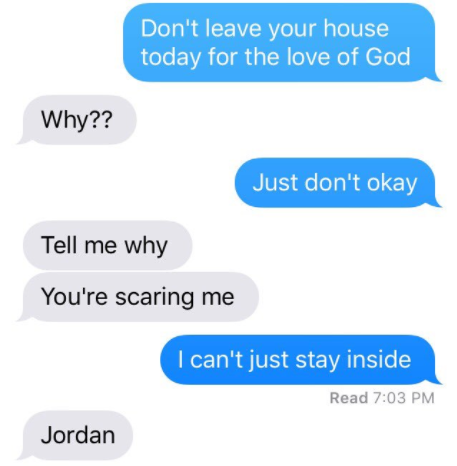 People found it pretty hilarious, so they decided to send similar messages to their own SOs. The results were absolutely hilarious.
https://twitter.com/hotylyric/status/858707177426616320
https://twitter.com/sadderall/status/858538934573322240
Same pic.twitter.com/WgopWK8J69

— Matt (@BoomSchroasted) April 30, 2017
Some people caught on a little faster than others.
https://twitter.com/teodxra/status/858522468247535616
https://twitter.com/vinylsmike/status/858697778712776704
And some people kind of wished they could've tried it, but…
wow imagine having a girlfriend to text this to, can't relate

— moved !! (@introsunset) April 30, 2017
Just remember: if you don't have a SO to troll, it's probably MattyB's fault. He's stealing everyone's girlfriends these days.