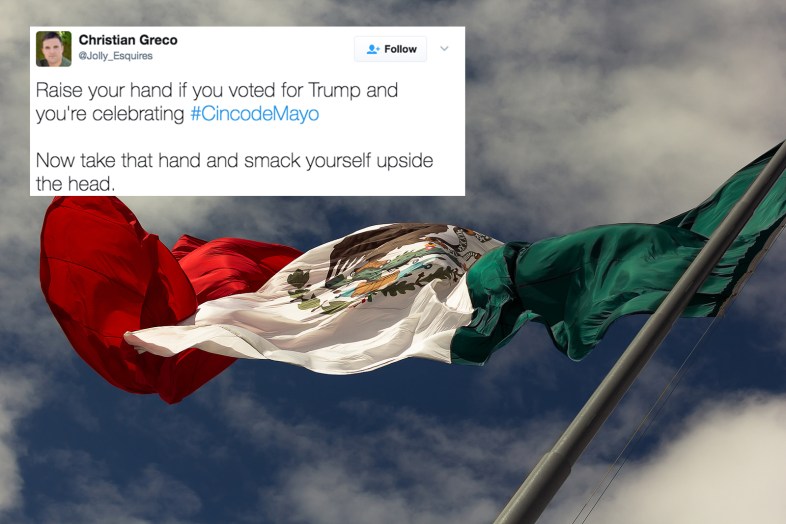 It's Cinco de Mayo, and what better way to celebrate than with memes and tweets?
Happy #CincoDeMayo to everyone except white people.

(That's how these things work now, right? So hard to stay up with the times.)

— Dave Rubin (@RubinReport) May 5, 2017
Here's a compilation of the best (OK my favorite) that the Internet has to offer.
Happy #CincoDeMayo!

Don't be racist.

Good talk.

Cool.

— Sam White (@samwhiteout) May 5, 2017
https://twitter.com/Dory/status/860518673794170880
Raise your hand if you voted for Trump and you're celebrating #CincodeMayo

Now take that hand and smack yourself upside the head. pic.twitter.com/g89p4zl2qr

— Christian Greco (@ChristGrec) May 5, 2017
https://twitter.com/3230PoppyStreet/status/860517733531754496
You're not allowed to celebrate #CincodeMayo if you've been chanting #BuildTheWall.
Seriously.
Just. Don't. Do. It.

— sarvenaz (@sarv3naz) May 5, 2017
Just a friendly reminder:
Reminder: #CincoDeMayo is about celebrating Mexico's victory at the Battle of Puebla, not getting drunk and furthering racist stereotypes 🙃

— Kira Kosarin❄️ (@kirakosarin) May 5, 2017
My yearly PSA: If you don't get drunk to commemorate the Battles of Lexington & Concord, it doesn't make sense to do it on #CincodeMayo.

— ✨Anna-Marie McLemore 🌈 THE MIRROR SEASON out now (@LaAnnaMarie) May 5, 2017
And remember: if you're wondering if it might be racist, it probably is.
#CincoDeMayo tip for people who are like "is this racist…?" PROBABLY. Ditch the sombreros & support Mexican-owned businesses in your area.

— Elizabeth Hernandez (@ehernandez) May 5, 2017
Happy celebrating!