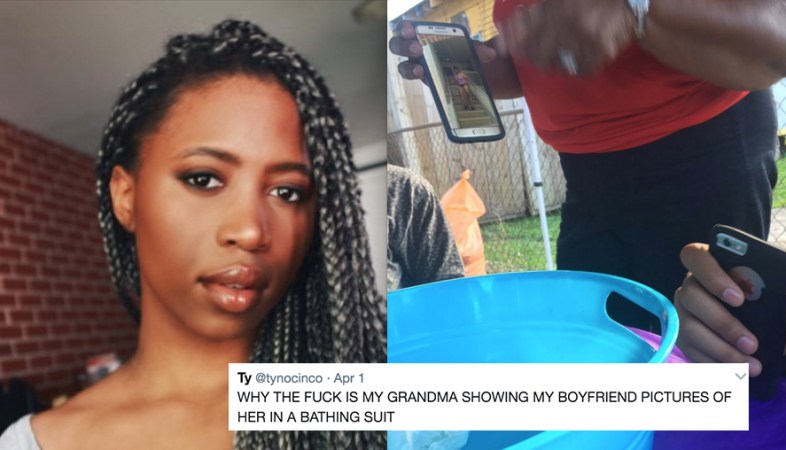 It's one thing if your friends are making moves on your man. It's another thing entirely when it's your grandma.
Twitter-user @tynocinco (or Ty) was spending time with two of her faves — her boyfriend and her grandma — when grandma decided to pull out her phone to show Ty's guy a swimsuit pic. Not of Ty. Of herself.
WHY THE FUCK IS MY GRANDMA SHOWING MY BOYFRIEND PICTURES OF HER IN A BATHING SUIT pic.twitter.com/bc8XlJtv50

— disrespect your surroundings (@smartlouse) April 1, 2017
Should she be concerned? Is it disrespectful to not see one of your elders as a threat to your love life? I don't know the protocol here.
Of course, Twitter lost its shit over this man-slaying grandma, because who wouldn't?
— Lord Sleaze 🦦 (@PlayaMadeChris_) April 2, 2017
Granny shooting her shot from deep 😭 pic.twitter.com/ulX1yoCw4r

— Regg (@iamgoofyLOL) April 2, 2017
https://twitter.com/macgregorwill97/status/848390365484916736
Sorry, hun. Grandma's just trying to shoot her shot.
Shooting her shot like: pic.twitter.com/IfXtj5gTAB

— 🩸Praise🩸Lord🩸 🗣🩸Jesus🩸 (@wiinchesterx) April 3, 2017
https://twitter.com/ewwwugly/status/848754753668612096
One more for good measure.
Nana out here finna take your man and shoot her shot 😂😂 pic.twitter.com/cUvHZyslPP

— B Munni 🇯🇲 (@bmunni_) April 3, 2017
Hey, maybe she's got a shot. Looks like Ty's man isn't the only one who may or may not be interested.
https://twitter.com/baccwoodquan/status/848594457893244928
Get it, grandma.