We all make mistakes, but that doesn't mean I'm not allowed to laugh when someone else makes one, right? Because I can't get over this woman who brought her dog to a furry convention thinking it was a gathering for pets.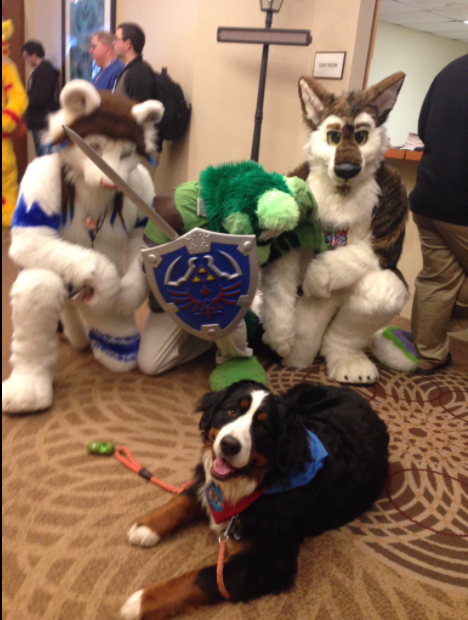 I am DYING.
Cheryl Wassus, a volunteer with Pets for Vets, and her one-year-old Bernese mountain dog, Link, stopped my the party to see what was going on. Little did she know that furries are not actually cute little animals but large anthromorphic animals.
It's an honest mistake, and it's also an epic one.
Cheryl's son, New York Media producer Kenny Wassus, chronicled the events on Twitter, which turned out pretty perfect in my opinion.
my mom thought furrycon was a pet event and volunteered w our therapy dog 😆 pic.twitter.com/mizlydLxjl

— kenny wassus (@kgw) April 8, 2017
Link being a good sport pic.twitter.com/wLSnGNi82Q

— kenny wassus (@kgw) April 8, 2017
ok link is starting to panic now sos pic.twitter.com/VFFmYtFOfZ

— kenny wassus (@kgw) April 8, 2017
https://twitter.com/kgw/status/850812865284014080
And, like me, people were losing their shit.
@MikeIsaac oh my god I haven't laughed this hard in days

— Laura J. Nelson 🦅 (@laura_nelson) April 9, 2017
https://twitter.com/SierraTishgart/status/850839116765900802
This is the best thing ever. Your mom is 💯.

— Mimsy💐 (@MimsyYamaguchi) April 9, 2017
There's something so weirdly pure and wholesome about the whole thing, which makes it so much better.
Your mom is a pure, sweet cinnamon roll, and she and Link probably made everyone's day at that convention. Thanks for sharing the cute pics!

— Mousey Wears a Mask (@kendermouse) April 9, 2017
the dog must have thought it died and went to heaven, giant interactive squeaky furry toys!

— Joelle Nebbe-Mornod (@iphigenie) April 9, 2017
He's such a cute doggo, I'm sure he's having a wonderful time 😊👍🏼

— Sky Awoo Wolf (@SkyTheWolf5) April 8, 2017
Thank you for bringing some adorable innocence to a small corner of the internet. 🙂💜

— Tea & 📚 & Music (@rudetuesday) April 9, 2017
Luckily, Cheryl took it all in stride.
"This is just a whole subculture I wasn't even aware existed," Cheryl told New York magazine. "When we set up tables and do promos and educate the public and do outreach, I had no idea the outreach was going to be other human … furry people. I guess you're never too old to learn."
Never too old, indeed. Way to be a good sport, Cheryl.
Besides, look at that face! As far as I'm concerned, no mistakes were made.