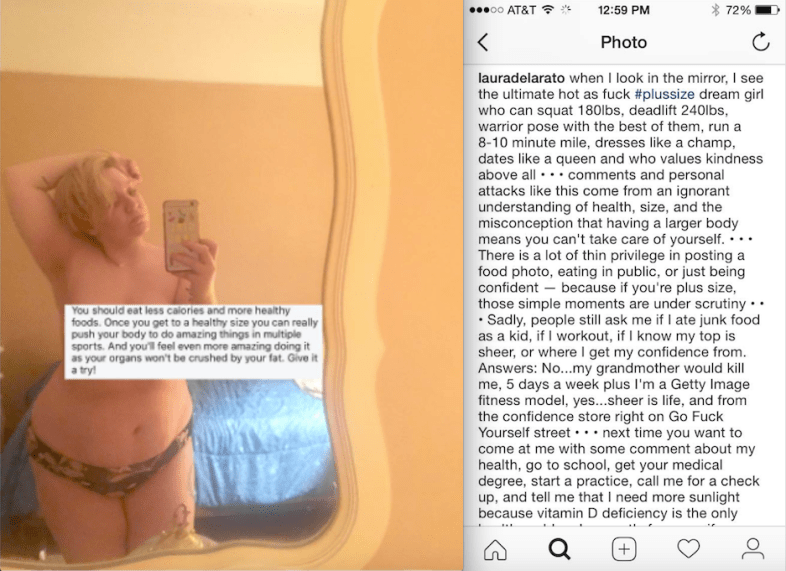 What do you do when you're bombarded with hateful comments about your appearance? Well, if you're this woman, you turn them into art.
Laura Delarato is a video producer for Refinery29, a plus size model and an advocate for body positivity. Her latest project? Finding ways to incorporate hurtful and demeaning comments from social media into her self-portraits.
The photos are often ones of her posing in either underwear or nude, proving that Delarato is comfortable in her skin, no matter what people have to say.
While the comments are at times used to censor parts of the photos (probably to fit within Instagram's posting guidelines), they still make it clear that Delarato has nothing to hide.
"Comments and personal attacks like this come from an ignorant understanding of health, size, and the that having a larger body means you can't take care of yourself," Delarato wrote on her Instagram.
She also did a similar project in the past using rude comments people made via messenger.
Honestly? Fuck the haters. I don't know why people feel the need to tear others down and share their opinions on things that aren't any of their concern, but it really needs to stop. No one is helping anyone by making unnecessary comments about someone's body type or appearance — if anything, it's only hurting people.
So yeah, props to Delarato for finding a productive way to take something terrible and turn it into art. Keep slaying, girl.