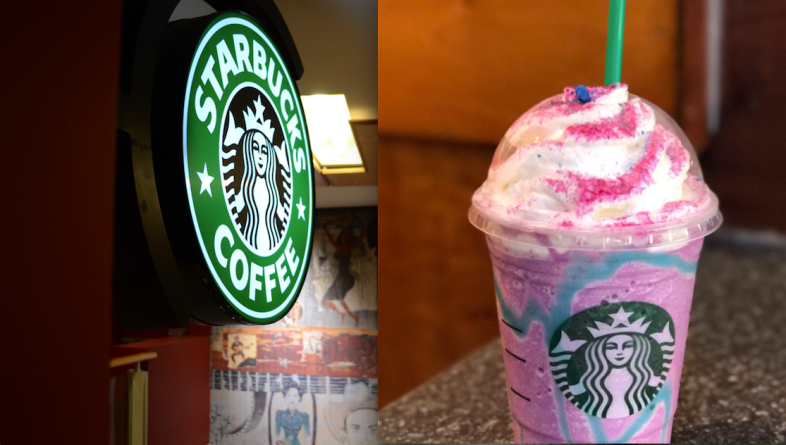 Starbucks has been getting creative with the Insta-worthy drinks these days. Move over Pink Drink and ombre rainbow macchiatos — there's a new sheriff in town.
At least, there is for a few days. The Unicorn Drink is taking over social media, partially because it's ~pretty~.
And partially because, well, some people think it kind of sucks.
Sitting in Starbucks watching people's excitement turn to disgust after trying the #unicornfrappuccino is so entertaining

— Abbi 🌺 (@abbi_joan) April 19, 2017
The frappuccino, which is mango flavored with "sour blue drizzle" (um, what), definitely fits in well with today's mermaid/unicorn food craze. But also, it just sounds like a poorly-devised drink in my opinion. Apparently others aren't impressed with it, either, and the social media commentary is pretty entertaining, to say the least.
https://twitter.com/beckyg1278/status/854715065198682113
Okay, I Can Get Behind the Whipped Cream and the Rainbow Sprinkles, But I Draw the Goddamn Line at the #SmurfJizz.#unicornfrappuccino pic.twitter.com/JXCatnlJXK

— Fiona Adorno 💙 (@FionaAdorno) April 19, 2017
https://twitter.com/HouseoftheDread/status/854697429072879616
We thought it a myth, but we finally caught that #UnicornFrappuccino 🦄✨ #SpeedDownEyesUpDriveSafely #WednesdayWisdom @Starbucks pic.twitter.com/AtWlScFX0I

— Gilbert Police Dept. (@GilbertPolice) April 19, 2017
Just got @StarbucksCanada #unicornfrappuccino
Honestly if I don't pee glitter in 2 hours I want my money back

— Andrew (@berridgeandy) April 19, 2017
I wonder how many girls have taken selfies with the #unicornfrappuccino

— ciara hanna (@ciarahanna20) April 18, 2017
Who wore it best? #unicornfrappuccino pic.twitter.com/LlB38QMvmO

— Jeff Rueter (@jeffrueter) April 19, 2017
Starbucks has a new #unicornfrappuccino that's so elaborate and I promise if u order one while I'm on bar I will never talk to u again

— kung fu clitty (@Clitorissa69) April 19, 2017
How to make a #unicornfrappuccino. 🦄 pic.twitter.com/675HZir0fi

— Jeff Barrett (@BarrettAll) April 19, 2017
Of course, there were quite a few #basic photos of the drink with captions claiming that it was actually pretty good, but who can you trust these days, amirite?
@Starbucks Got the Unicorn Frappuccino! Tastes amazing! #unicornfrappuccino pic.twitter.com/ZVEvwQWG2y

— madison (@machen_madison) April 19, 2017
The Unicorn Frappuccino will only be around till April 23, so if you're hellbent on getting one, you'll probably have to stand in a ridiculously long line sometime within the next few days. I sure do hope it's worth the Insta.