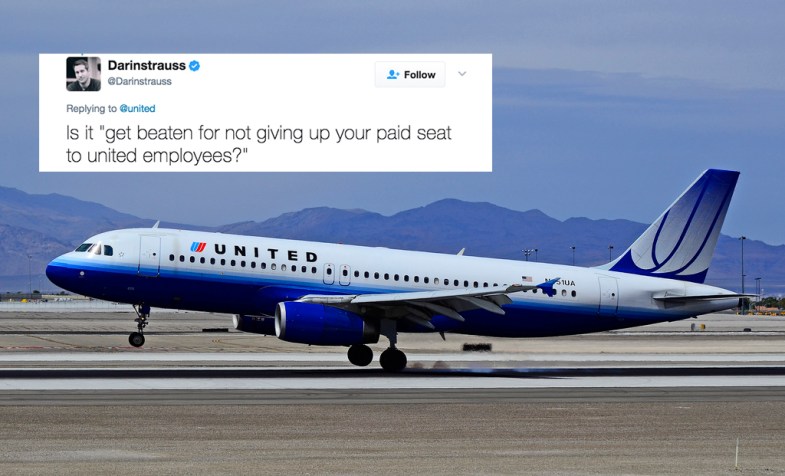 Passengers on an United Airlines flight were left horrified after security guards dragged a bloodied man off one of their planes because he wouldn't give up his seat.
The man was asked to leave the plane because the flight was overbooked by four people. He had been one of the people who were randomly chosen to be asked to wait for a flight the next day, but the man refused, claiming he was a doctor and that he had patients he had to see. It was then that the security guards forced him out of his seat and firmly dragged him away, despite the fact that their physical efforts left him bleeding.
https://twitter.com/sugarluda/status/851524018498875392
Of course, the passengers weren't the only people horrified by the event. After videos and pictures leaked online, people took to social media to voice their disgust with the airline.
Boycott @United if you can. They overcharge you, abuse you & will lose your luggage. With no remorse.

— Mikki Kendall (@Karnythia) April 10, 2017
HE PAID FOR THE SEAT. And for that he was assaulted. Yay, @United.

— Anita Creamer (@AnitaCreamer) April 10, 2017
Dear @united, I suggest you look up the definition of 'volunteering'…

As far as I remember it doesn't involve assault.#BoycottUnited

— Ranj Singh (@DrRanj) April 10, 2017
https://twitter.com/3230PoppyStreet/status/851517009804222464
People also took to trolling United Airlines' own tweets, like this one, which encourages customers to share photos and stories about their experiences.
Watch what happens when travelers from around the world follow their wanderlust — use #UnitedJourney to share your travel pics. pic.twitter.com/8Z9gAfixAg

— United Airlines (@united) April 5, 2017
#UnitedJourney pic.twitter.com/prrmElrUtf

— Aaron Leaf (@aaronleaf) April 10, 2017
This guy has a great holiday! #UnitedJourney pic.twitter.com/863OE1I4eK

— ◔◡◔ (@M0R0B) April 10, 2017
Is it "get beaten for not giving up your paid seat to united employees?"

— Darinstrauss (@Darinstrauss) April 10, 2017
And also this tweet about the Twitter user who needs 18 million retweets to get free Wendy's nuggets for an entire year.
If you get the 18 million RTs, we'll give you a free flight to take you to any @Wendys in the world in a city we serve. Good luck! https://t.co/igxnPg1JUF

— United Airlines (@united) April 8, 2017
@carterjwm They might knock you out in the process though, so I wouldn't take it.

— Ryan Brown 🎮 (@Toadsanime) April 10, 2017
wanna give the guy u beat up a free flight too? maybe more than 1?

— eve peyser (@evepeyser) April 10, 2017
— Brandon Bowen (@TheBrandonBowen) April 10, 2017
If it was any airline other than United this may be worth it.

— Erik C. Jones (@ECFNJ) April 8, 2017
It may not be the justice this guy needs, but at least people are holding United Airlines accountable and letting the company know that what they did wasn't OK. So keep the tweets coming, people.