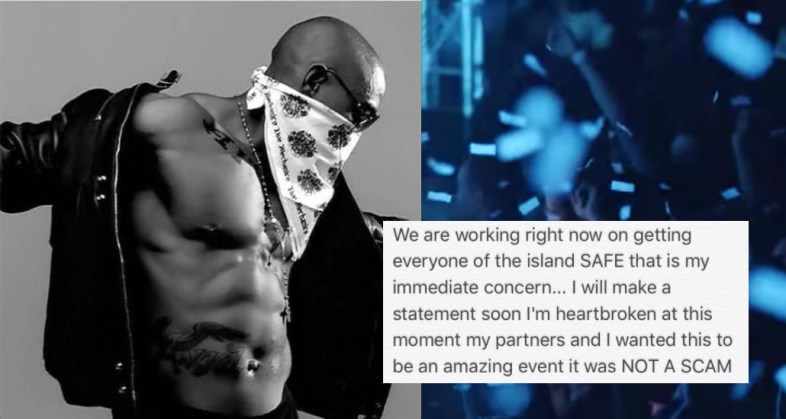 So, Fyre Fest didn't quite go as planned, huh?
If you need a quick recap, here it is: basically, Instagram-loving Millennials paid up to $12,000 to attend a festival on a remote island that was put on by Ja Rule. They expected luxury beaches, wild parties and live music, but instead the festival was cancelled and everyone was stranded on the island with little food and water, tents without electricity and — the worst part — no beer.
So Fyre Fest is a complete disaster. Mass chaos. No organization. No one knows where to go. There are no villas, just a disaster tent city. pic.twitter.com/1lSWtnk7cA

— William Needham Finley IV(It's real. I made it up) (@WNFIV) April 27, 2017
"United Airlines has created the model for how to destroy a brand overnight." #fyrefestival: "hold my beer*"

(*Beer not provided)

— Gatsby's Manservant (@notTHATmattfox) April 28, 2017
I had NO clue what #FyreFestival was 4 min ago. Now its my fav 2017 trending story. Just sitting @ my desk @ my low-wage job following along

— Kailah Borchers (@kailahtaran) April 28, 2017
https://twitter.com/Flames_Baldwin/status/857850037505753088
So, yeah.
We haven't heard much from the people behind the festival yet, but Ja Rule finally took to Twitter to apologize about the giant, chaotic shit show, which probably won't save him now, but it was a good try.
— Ja Rule (@jarule) April 28, 2017
Do you hear that, festival goers? It was NOT A SCAM, he swears.
Of course, people found plenty of ways to make fun of the sort-of-apology.
https://twitter.com/BecketAdams/status/858026866887847936
me: NOT MY FAULT…
me to me: I'm taking responsibility https://t.co/3jSyLyvDTQ

— Kaitlyn Tiffany (@kait_tiffany) April 28, 2017
https://twitter.com/HKesvani/status/858027775864827904
At least he gave us some awesome quotes to use in the future when we all inevitably fuck up big, though hopefully not to the degree of stranding thousands of rich kids on an island.
"I don't know how everything went so left but I'm working to make it right"

JaRule's #FyreFestival apology is 🔥 https://t.co/NrmtvItbD7

— Austin Hunt (@AustinHunt) April 28, 2017
.@Ruleyork OMG. This is the only way I'm apologizing from this moment on: pic.twitter.com/zxlwBc1ITF

— omri (@Omri_Rawrlan) April 28, 2017
Some people went so far as to even thank him for the whole ordeal.
https://twitter.com/thekylestevens/status/858030273509851136
https://twitter.com/fzaman93/status/858026524783636481
Honestly, those festival-goers should've known not to trust Ja Rule.
https://twitter.com/jtylerconway/status/858027080591822850
Personally, I think this is all a giant plot to get Ja Rule back on the map again. No one's gonna forget his name once all those lawsuits come rushing in.