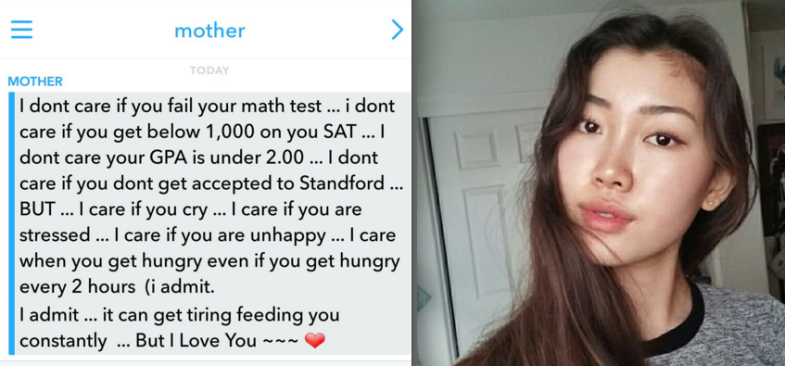 Whoever says school isn't hard is a liar and ought to be burned at the stake. Just kidding. But really. School is hard.
While it's difficult enough to pass your classes as it is, it really doesn't help when you add the stress of everything else to it — your social life, your extracurriculars and, perhaps most importantly, your parents.
This girl texted her mom about failing a math test and wasn't sure what reaction she'd get, but her mother's response was absolutely heartwarming.
I told my mom I failed my math test and this was her response :') pic.twitter.com/BYGuVVEyWr

— hnh (@imhannahcho) March 16, 2017
All together now: awwwwww.
That's the unconditional love we all need in our life (especially the one that feeds us every two hours because that's honestly the purest kind).
People were definitely touched by the exchange.
okay lowkey ALMOST TEARED UP 😩

— K (@I0Izzz) March 16, 2017
Others mostly just couldn't comprehend any mother ever being so understanding.
https://twitter.com/r_juan19/status/842592076508286980
if I failed a quiz and my mama knew about it this would be her immediate response pic.twitter.com/T3n5g3J8ul

— throat baby (@damnitjulz) March 18, 2017
wish my mom was like this 🙃

— Leon Chung (@choi_nhieu) March 16, 2017
https://twitter.com/Coolasf_A/status/843995639474262016
my mom never texts me back

— Manuel (@manuel_73_) March 18, 2017
Honestly, no one should be surprised — this mother-daughter pair are just #goals in general.
gotta keep our 90 day streak

— hnh (@imhannahcho) March 16, 2017
Here's to hoping that someday I might have the privilege to be that cool of a parent, and that my children will also care about our Snapchat streak as much as I will.