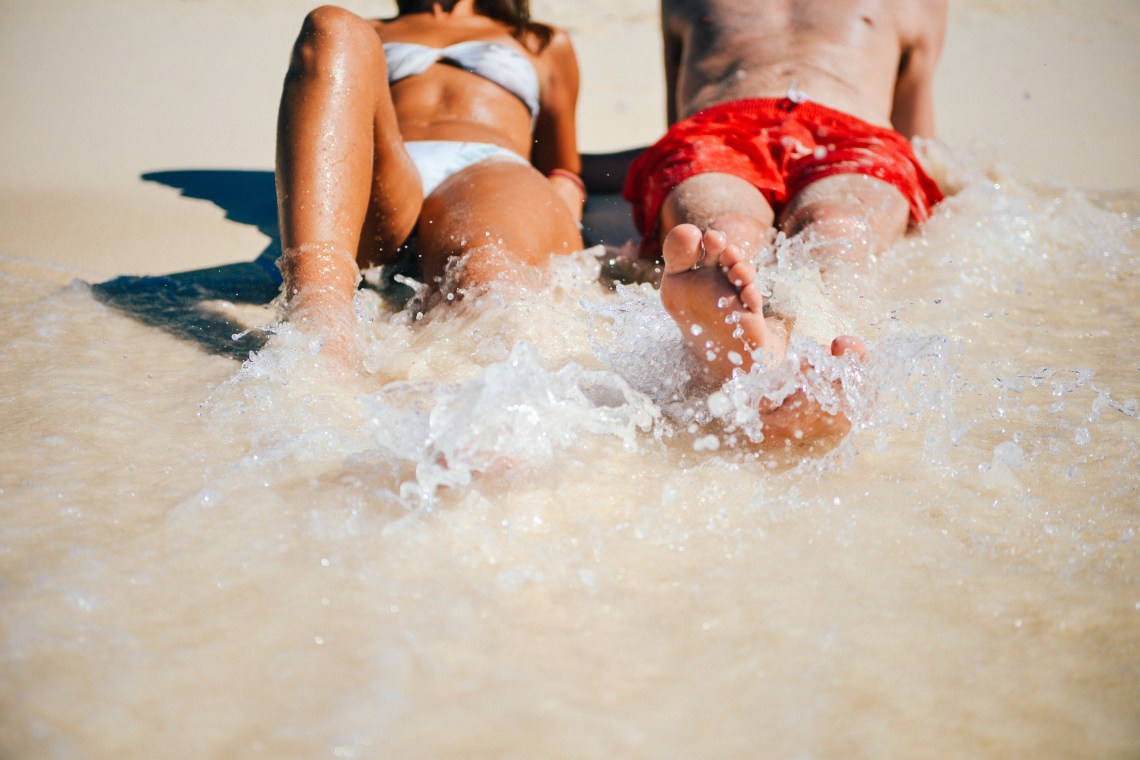 In my mind's eye I see Divine pulling to a stop outside arrivals at Honolulu International Airport. She has the top pulled down, her brown skin shining in the sun. It's a blue mustang convertible. She's wearing tan shorts and a yellow tank. Oversized sunglasses and the biggest smile I'd ever seen; crooked teeth and all.
It's a memory that's crystal clear. Like it could have happened yesterday, instead of years ago.
I remember smiling back as our eyes met, throwing my suitcase into the back seat, jumping in and giving her a big, joyous, almost goofy kiss.
We didn't speak. Didn't have to. Our joy of being together, being there at that moment, didn't need words. The days and nights ahead were ours. No one could take them away.
I remember that I was impossibly happy. My heart was hers. All of me was hers.
This particular memory hit me hard recently. I wasn't doing anything special. Just happened to see an ad on TV about something Hawaiian.
And the memory itself, the physical scene playing out in my head came out of nowhere – most definitely uninvited – got me thinking about what defines not just a memory for each of us looking back on past relationships – on our own, unique stories of love's labor won and lost. But also why?
Because we all have them – these stories, and therefore, these memories.
The first time you saw each other? The first kiss? Sure. The first time making love, all fumbly- bumbly and rushed with both unbridled passion and a little bit of fear and uncertainty? Oh hell yes.
But what about the little moments? The little things you learned along the way? And what about the places themselves? Can they themselves be a physical memory?
And I'm thinking about all of this while this memory of mine keeps on trucking, like I'm watching a movie but not really paying attention because I'm now trying to chase down this new thought at the same time.
But at some point, the memory takes control, itself deciding that it will come first. So now, I'm back in Hawaii again.
After picking me up at the airport, I remember we jumped on the H1, then to the Nimitz right to the doorstep of The Modern, a little place just at the edge of Waikiki that I had found for us.
I remember dinner that night was at Mori's, because it was her favorite place, and because it's one of those small details that ultimately mean nothing and everything at the same time.
And I remember that her sisters were there as well, visiting family. Three drop-dead, beautiful Filipino girls and me. Fruity drinks and piles of food all around. Four New Yorkers in paradise. Epic night.
It's somewhat surreal, this memory. But then again, as my memory not so gently reminds me, so were Divine and I in a very real way.
The odds against us were long, unimaginable. Yet there we were, our asses sitting in paradise, a place we would come to feel home in, crazy as that was.
And now when I hear or see things about Hawaii, the memories come for me. It's a trigger that I have not learned to control.
Perhaps because Hawaii has a certain feel to it and a unique cultural rhythm that exists just below the surface. For instance, it has a very distinct caste system. Tourists exist at the bottom, natives at the top. I was somewhere in the lower middle- definitely a haole. Her looks, heritage, and skin color placed her much, much higher.
Or maybe it's because that we had come to be there at all was in itself a cosmic wonder. Fate and circumstances had nudged us improbably towards it. I nudged harder (I do that), and made it all happen. To the Hawaiian world and the people we came to know we were one thing, but to Hawaii itself, to the land, the blue water, the crystal skies and warm sun, we were perpetual honeymooners. Passionate, almost desperate lovers in a tropical bubble we built and adapted as we went along.
Or maybe it's because I just don't know fucking why the memory is so real.
But I know and remember that in this unique island world, our impossibly impractical and crazy love flourished and grew. My heart – and hers – joined.
We watched and listened to the humpbacks in Kihei. We surfed in Wailea, had brunch at Longhi's and dinner at Mamma's. We bought sunglasses and Kona beers and board shorts. We spent hours at The Modern's pool because she preferred it to the sand and ocean. We watched the rain when it came, and once sought shelter during a hurricane.
It was as if the further we flew away from New York, the deeper we connected. Were we escaping? Perhaps. On paper, an argument could certainly be made. But neither of us was in any way rich. We were there to both work and play. And to get away – from the New York winter cold, from societal norms and expectations; from our real life, as she would say.
Over the course of our many years together, Hawaii became a second home. We found dive bars and out of the way places to hang. We sat on the North Shore watching the enormous, extreme, indescribable power of the waves, and she sat and watched (and prayed) as I dove in one day. Just because that's me and I had to say I tried. Had to prove to myself that I could do it.
We talked about the future while watching the Friday night fireworks over Waikiki and she taught me how to say I love you in Tagalog – Mahal Kita.
We danced under a stunning lightning show one night when night turned to day; 10,000 strikes stunning us into silence, as if the Gods were smiling on us – somehow proud of us for making it this far.
We sat on our lanai and watched the sunset every night. We slept under a ceiling fan, a thin sheet wrapped around our naked bodies as we made love to the sounds of the ocean just outside the open windows. We took long drives, stopping to get out and explore something new – a beach, a lava field, the view. She always took her camera, and I would borrow it and shoot her. Her crooked smile, pearly white teeth, left leg poised just in front of the right.
She was a flip flops and shorts kind of girl, with a body that if put in a certain blue bikini literally stopped traffic. And I was her guy: tall, sandy hair, trim, athletic, confident.
We talked about our forever life the most while we were there. We came up with scenarios where we could raise a little one on both extreme coasts. Our combination of pragmatism and we can do this attitude devising answers to any challenges.
And we kept coming back to Hawaii. No matter what, we kept finding a way.
Ultimately, I think it was maybe the Pacific itself that drew us and infused our veins, and I think the mystery of it is part of what brings the memories: its sheer and complete vastness; and the same waves hitting the shores upon which she was born and grew up in the Philippines.
How the Pacific reveals her moods so strongly as if to say: here I am. Take me as I am. I will love you if you love me. But beware, I am beautiful and giving, but I can also kill you.
And as we all know, love can also kill you, and sometimes it's not forever.
And in keeping with the essence of memories themselves – that however strong they are, you simply can't hold your arms around them, of my former best friend and lover today I know very little, for she chose a different island – Staten Island – over my Hawaiian Islands, and a different boy to lie next to.
Different waves making different sounds on different shores.
But I still feel drawn to her, as I still feel drawn to the Pacific. Both will forever be an unsolvable mystery for me. As will why the smallest of memories – the littlest of things – demand attention.
And I will always remember the two words of Tagalog she taught me.
Mahal Kita.