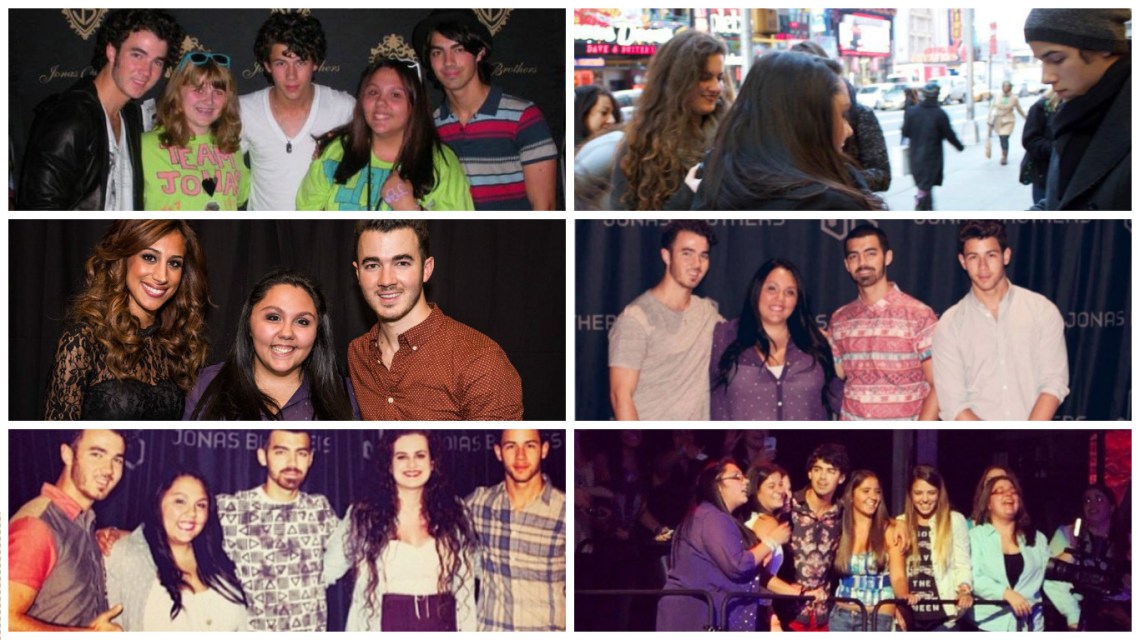 To the boy band I thought I'd have forever,
It's been over three years, three years since the day I called my mother sobbing so hard that she thought I was seriously hurt or someone had died.
"B-Brittany, what's wrong?!"
"MA! THE J-JONAS BROTHERS BROKE UP!" I exclaimed through my tears. Yes, don't laugh, I thought the defining, dreaded, life or death moment in my life was a band of three brothers breaking up. But looking back at it all now, I wouldn't have changed the years I spent loving you three for anything.
I don't care what anyone says, one of the best feelings in the world is right before a concert starts. The lights suddenly go black, there's a split second of pure silence before the abrupt shrieks and screams of anxious excitement bouncing off of the venue's walls. The beginning music starts playing of your favorite song and the fog creeps out before bright lights hit the stage, and there they are.
That was the energy I fed off of for the majority of my teenage years. While the rest of my peers were going to parties and saving their money, I was skipping them and giving mine left and right to be able to see you.
The day you guys broke up, it felt like a small piece of me was gone. You were on the brink of a comeback, a new album set to release, ready to go out on a tour in mere days and it all just ended out of nowhere. While I still don't accept how it happened, how it was handled and why, it still could never take away how thankful I am that I was able to grow up with you three.
1. Thank you, for giving me the wildest memories I could've asked for.
While my peers were spending their time getting wasted at parties, I spent mine running around New York City. Whether it was sleeping on the streets to see you, leaping over barricades or waiting on lines in extreme heat, cold and literal monsoons, it was all worth it. Because of you, I know my way up and down New York City, can buy tickets online faster than anyone I know and can sneak into meet and greets like I'm a pro (oops). You gave me the unique memories I look back on now and wonder how I was so lucky to experience it.
2. Thank you for giving me the unique friendships I still have today.
Because of you, I have met so many people from many different walks of life. It was waiting in endless lines for your concerts, events and meet and greets where I found people I could bond with on a different level, the people who didn't laugh in my face when I told them who my favorite band was or judge me for it. People who had the same looks of adoration and hope on their faces during every concert I've been to. I don't think many people understand the immense joy there is when you're at a concert and can look around you to see thousands of people just like yourself. It's because of you that my life has been added with some of the best people I know and some of the people I'm proud to call my best friends.
3. Thank you for the music that got me through my best and worst days, the music that defined my teenage years.
It was in your lyrics I was able to feel at peace when I had the worst day imaginable. On some days, coming home and having your music blasting through my headphones is what kept me from having a complete meltdown. With every year came more songs I could relate to more and more. You gave me songs I could dance around too in my room, songs I blasted out of my car windows once I got my license, songs I listened to after my first big heartbreak and songs I listened to when I was faced with the scariest moment in my life. Through every major event, you were always there by my side. It's your music that defined some of the most important years of my life.
4. Thank you, for giving us all that you could.
There aren't many artists who had the relationships with their fans like you did. I always felt at home when I was in your presence. You weren't the typical money making boy band. From your live chats, to tweet sprees, meet-and-greet experiences and always stopping, no matter what to meet us outside of events, hotel and airports, you always put us first. I can't thank you enough for being one of the first boy bands to break the "norm" and form a different kind connection with your fans.
5. Thank you for teaching me how to grow up.
While your break up shook me, really shook me, it taught me a lot. It showed me that something good doesn't always last and that we all need to enjoy every moment we are able have and never take things for granted. If I knew the last time I met you and saw you live was going to be my last, I would've embraced it so much more. I wouldn't take back any of the many moments I spent with you, and it wasn't until it was all over that I realized how lucky I truly was to experience all I did.
Let's be real, I'd still be going to your concerts if you never broke up, but in closing that chapter of my life I learned responsibility, the value of a dollar and what being an adult is. I can no longer just skip school to see you, or spend $600 on floor seats to your concerts when I have bills to pay and a college loan to deal with (considering all the money I spent on you over the years could've paid it off by now.)
6. Thank you for giving me the moments I'll tell my children about.
I know how much my favorite band impacted my life, so when I have children someday and they fall in love with a band, I will be the first mother online buying them their first tickets to a show. When they ask me what I was like as a teenager I'll tell them about that one time my best friend Rosie and I ran from Central Park to Times Square to get in line to meet you, or how I was one of the lucky fans chosen to be on stage with you at Radio City Music Hall in front of 6,000 people for your comeback show. I'll tell them that some of the best memories I had were all the times that involved you.
When your songs come on shuffle I always stop and smile. I'll always clap during the last chorus of "That's Just the Way We Roll." I'll never listen to "SOS" without thinking of Kevin's dance. I will always rap Big Rob's part in "Burnin' Up," and will always clap during Nick's bridge. I'll always shed a tear when I hear "A Little Bit Longer" or "When You Look Me In The Eyes," and I will always chuckle every time I hear "Don't Charge Me For The Crime." And even though Nick would like to shun it from his memories, I think we'll all remember "Nick J is Off The Chain." I'll never regret the meet and greets I've snuck into or the hours waiting for your live chats to finally start. I'll still watch the ridiculous youtube videos from years ago, and I'll still blast your music from my car occasionally with no shame, remembering every lyric no matter how much time has passed. All the years of torment from people referring to me as the "Jonas girl" were so worth it.
Things are different now. One of you is a proud father, husband and businessman; one is a free-spirit with a new, fresh band, and the other has a solo career that has skyrocketed with a world tour on the way. I am so happy to see you all living the life you've dreamed of and for being happier than any of us have ever seen you. As fans, that's all we've ever really wanted.
I will never forget the feeling in my heart over the years when those lights would fade to black and you three appeared before us, because when I go back and remember it all, that feeling is still there. While the posters have come down and the concerts have come to an end, I can promise you the memories never will.
Thank you for making me into who I am today.
Signed,
A loving fan, still slightly heartbroken, who will get tickets immediately if you ever do a reunion tour (fingers crossed xoxo).