Twitter user AmosPosner snapped this photograph of Road Runner and Wile E. Coyote creator Chuck Jones' rules for their cartoon universe, which was recently on display at the Chuck Jones exhibit at the Museum of the Moving Image in New York.
What a wonderful document: Chuck Jones's rules for writing the Road Runner and Wile E. Coyote. ht @AmosPosner pic.twitter.com/o5ziZymEcY

— Saladin Ahmed (@saladinahmed) March 4, 2015
The rules are succinct, fundamental tenets that have rarely, if ever, been broken on the cartoon show:
RULE 1.
The road runner cannot harm the coyote except by going "BEEP-BEEP!"
RULE 2.
No outside force can harm the coyote – only his own ineptitude or the failure of the Acme products.
RULE 3.
The coyote could stop anytime – if he were not a fanatic. (Repeat: "A fanatic is one who redoubles his effort when he has forgotten his aim." – George Santayana)
RULE 4.
No dialogue ever, except "BEEP-BEEP!"
RULE 5.
The road runner must stay on the road – otherwise, logically, he would not be called road runner.
RULE 6.
All action must be confined to the natural environment of the two characters – the southwest American desert.
RULE 7.
All materials, tools, weapons, or mechanical conveniences must be obtained from the Acme corporation.
RULE 8.
Whenever possible, make gravity the coyote's greatest enemy.
RULE 9.
The coyote is always more humiliated than harmed by his failures.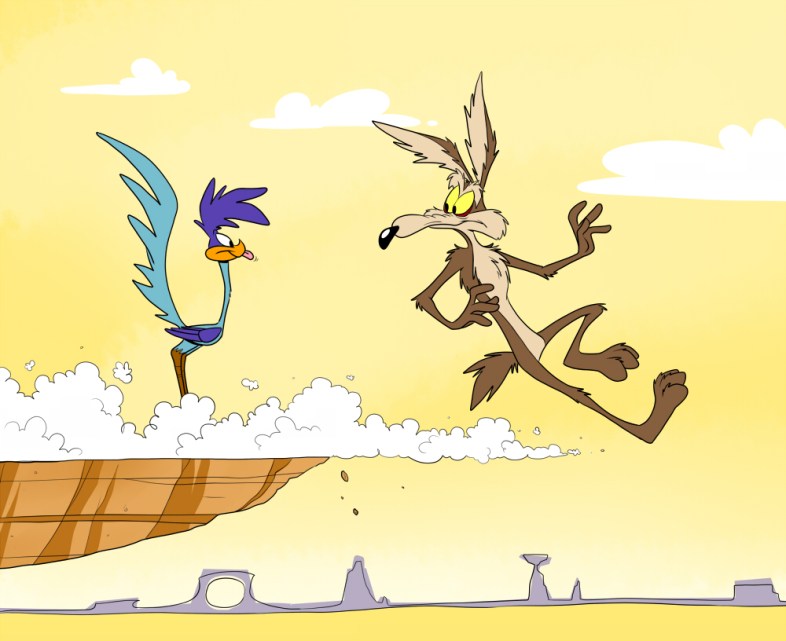 These rules are apparently included in Jones' autobiography Chuck Amuck, which include two more rules:
RULE 10.
The audience's sympathy must remain with the Coyote.
RULE 11.
The Coyote is not allowed to catch or eat the Road Runner.