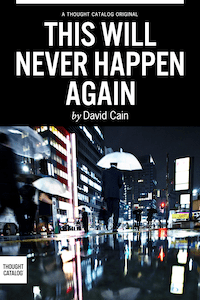 This Will Never Happen Again
The human being is a delicate creature, and the modern world handles us harshly. This Will Never Happen Again is a collection of David Cain's essays and reflections on what each of us can do in our own private, first-person experience to create personal stability and meaning in a world for which we are now poorly adapted.
About Thought Catalog Books
Thought Catalog introduces long reads and digital books for your tablet, eReader or mobile device. All titles are available through Amazon, Apple, and Barnes & Noble. New titles are released biweekly. Questions? Email hello@thoughtcatalog.com.
Retail inquiries: publisher@thoughtcatalog.com