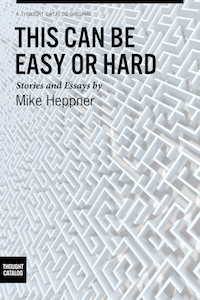 This collection of five stories and four essays showcases the work of Mike Heppner, the writer whom Entertainment Weekly calls, "A fearsome cultural critic disguised in a novelist's clothing," and whose funny and biting fiction has been praised in Esquire, The Washington Post, and The Millions. Most of these pieces have not been published before. Featured performers include: a deluded Lothario, a man obsessed with corn, Charlie Watts, the dude from Def Leppard, and a sweet old lady who meets her untimely end at a Boston Market.
"Heppner does a very rare thing – he captures delicate human moments without being precious. Floating like dust in afternoon sunlight, his scenes are illuminated bits of life made strangely beautiful and poignant by his storytelling. Bound together by self-effacing humor, his work is deeply-affecting and well-observed. This collection of short stories murders everything but the undeniable throb of life and love."
About Thought Catalog Books
Thought Catalog introduces long reads and digital books for your tablet, eReader or mobile device. All titles are available through Amazon, Apple, and Barnes & Noble. New titles are released biweekly. Questions? Email hello@thoughtcatalog.com.
Retail inquiries: publisher@thoughtcatalog.com