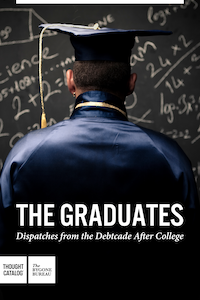 The Graduates
Dispatches from the Debtcade After College
Dr. Seuss's "Oh, the Places You'll Go!" has been a perennial graduation gift since its publication in 1990, but let's get real: in today's economy, graduates are lucky to go anywhere offering health benefits and a steady paycheck. Full of comforting wisdom and advice about the postcollege experience, The Graduates is the anti-"Oh, the Places You'll Go"—a smart, funny essay collection about college grads entering the worst job market in decades.
About Thought Catalog Books
Thought Catalog introduces long reads and digital books for your tablet, eReader or mobile device. All titles are available through Amazon, Apple, and Barnes & Noble. New titles are released biweekly. Questions? Email hello@thoughtcatalog.com.
Retail inquiries: publisher@thoughtcatalog.com