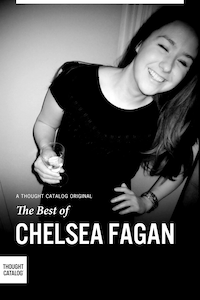 The Best of Chelsea Fagan
In her years writing with Thought Catalog, it's always been Chelsea's goal while writing to make people laugh or think in a way that reminds them that people are all deeply connected, and that there is very little to be embarrassed about at the end of the day. So if you've ever found yourself Facebook creeping your ex's new SO with a vigor you've never put into any job, or figuring out how to live like the Barefoot Contessa on the budget of Semi-Homemade with Sandra Lee and her inexcusable mess of a Kwanzaa cake, then this book is for you.
About Thought Catalog Books
Thought Catalog introduces long reads and digital books for your tablet, eReader or mobile device. All titles are available through Amazon, Apple, and Barnes & Noble. New titles are released biweekly. Questions? Email hello@thoughtcatalog.com.
Retail inquiries: publisher@thoughtcatalog.com