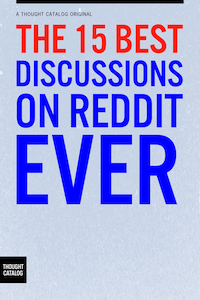 The 15 Best Discussions on Reddit Ever
Reddit has spawned an incredible amount of little factoids delivered straight from the lives of the users, who all readily reveal themselves (truthfully or deceitfully, one can never tell) to take the weight off their shoulders, confess their minds, reveal parts of themselves that they never could in real life, for closure, for help, to leave a little part of their life on the web that they can never forget. This book highlights some of the funnier, more provocative, soul-punching, salacious commentary provided by the users of Reddit.
About Thought Catalog Books
Thought Catalog introduces long reads and digital books for your tablet, eReader or mobile device. All titles are available through Amazon, Apple, and Barnes & Noble. New titles are released biweekly. Questions? Email hello@thoughtcatalog.com.
Retail inquiries: publisher@thoughtcatalog.com