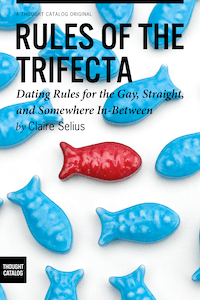 Can one person be a Trifecta? Claire has dabbled in it all trying to find what everyone is searching for–the one! She has dated guys, girls, and girls that look like guys.  Claire's background is a combination of 3 different viewpoints that create a Trifecta of knowledge. From evolving sexual preferences to hilarious first date fails, Rules of the Trifecta offers up a whirlpool of situational expertise that everyone can relate to. This combination of dating and relationship rules can be like braille as you attempt to feel your way up (or down) through the dim world of dating. Claire has no qualms about telling it like it is, and more importantly, how it should be. You're welcome in advance.
About Thought Catalog Books
Thought Catalog introduces long reads and digital books for your tablet, eReader or mobile device. All titles are available through Amazon, Apple, and Barnes & Noble. New titles are released biweekly. Questions? Email hello@thoughtcatalog.com.
Retail inquiries: publisher@thoughtcatalog.com