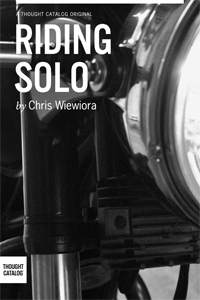 After a motorcycle crash, Chris ricochets into an interracial relationship with Kisha. In her dorm room and under an Obama 'HOPE' poster, Chris loses his virginity to Kisha. Unable to ride his motorcycle until he completes months of physical therapy, Chris replaces the excitement of riding with the craving for more and more sex, while Kisha still yearns for her ex-boyfriend–also named Chris. Chris-the-narrator considers a pornstar career, but instead posts to Craiglists' casual sex encounters. When multiple women, couples, and even men respond, Chris must choose which danger is worth the risk to pursue.
About Thought Catalog Books
Thought Catalog introduces long reads and digital books for your tablet, eReader or mobile device. All titles are available through Amazon, Apple, and Barnes & Noble. New titles are released biweekly. Questions? Email hello@thoughtcatalog.com.
Retail inquiries: publisher@thoughtcatalog.com