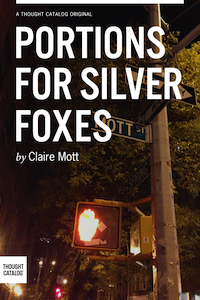 Portions For Silver Foxes
Ensnared by the sleazebag charm of Tony—minor blogstar and middle-aged skateboarder—the sharp-but-hopeful Claire Mott invokes her wiles to accelerate digital flirting to a proper amorous undertaking, all the while unwilling to fully admit that she may be the one being led, a coquette pup drawn into the den of a deliciously terrible Silver Fox. What unfolded later became fodder for Claire's first piece of SlutLit; a modern Aesop's fable with a singular moral: just because you can fuck your way into something, doesn't necessarily mean you can fuck your way out.
About Thought Catalog Books
Thought Catalog introduces long reads and digital books for your tablet, eReader or mobile device. All titles are available through Amazon, Apple, and Barnes & Noble. New titles are released biweekly. Questions? Email hello@thoughtcatalog.com.
Retail inquiries: publisher@thoughtcatalog.com