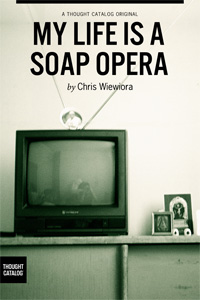 After failing to land a publishing job following graduation, Chris tosses pies at Lazy Moon Pizzeria where he works with his ex-best friend and former roommate Steve. During college, Chris just barely escaped a love-triangle between his ex-girlfriend Christina and Steve. In My Life is a Soap Opera other ex-girlfriends randomly stop in the restaurant reminding Chris of all his regretful relationships. When Chris falls in love with Lauren–the best friend of Chelsey, a lesbian Chris crushed on–how will he make the leap out of the hook-up culture at the restaurant and into a real relationship?
About Thought Catalog Books
Thought Catalog introduces long reads and digital books for your tablet, eReader or mobile device. All titles are available through Amazon, Apple, and Barnes & Noble. New titles are released biweekly. Questions? Email hello@thoughtcatalog.com.
Retail inquiries: publisher@thoughtcatalog.com