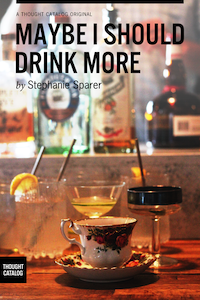 Maybe I Should Drink More
Maybe I Should Drink More, like most books about young adults trying to find their place in the world, starts with a breakup. Stephanie Sparer explores the oddities of life in a series of candid essays about dating failures and dating wins, self-actualizing, work, and the slew of anxieties that come free with your college diploma. Her prose raises questions such as, "Do five people equal a party?"; "Am I attracted to this dude or just his plaid shirt?"; Am I working hard enough?; Should I relax more?"; "Maybe I should drink more?" Maybe you should just read this book for the answers and stop looking at the synopsis.
About Thought Catalog Books
Thought Catalog introduces long reads and digital books for your tablet, eReader or mobile device. All titles are available through Amazon, Apple, and Barnes & Noble. New titles are released biweekly. Questions? Email hello@thoughtcatalog.com.
Retail inquiries: publisher@thoughtcatalog.com