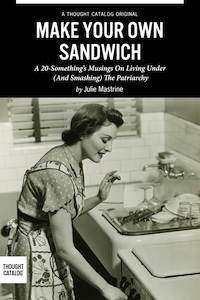 In an age when "Make me a sandwich!" or "I'm not a feminist, but…" is a common preface to discussing sexism in society, openly talking about feminist issues can be a challenge. This collection of essays features a 20-something's musings on how sex and gender politics have shaped her worldview. She discusses common issues facing women and LGBTQ folks today, including street harassment, body-hatred, the decision to wear makeup, harmful messages in pop culture, and the politics of the #selfie. Make Your Own Sandwich offers a bold look at the flawed attitudes and societal structures facing young women today — and how a sense of empowerment can emerge through all the muck.
About Thought Catalog Books
Thought Catalog introduces long reads and digital books for your tablet, eReader or mobile device. All titles are available through Amazon, Apple, and Barnes & Noble. New titles are released biweekly. Questions? Email hello@thoughtcatalog.com.
Retail inquiries: publisher@thoughtcatalog.com