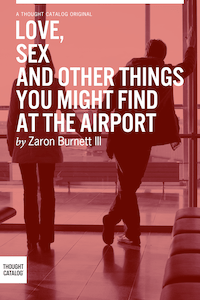 Love, Sex, and Other Things You Might Find at the Airport
This book is like a cross-country road trip with your favorite cousin the first summer you're old enough to get high with him and he decides to tell you what he knows about life. These essays are as wise as they are laugh-out-loud funny, and as useful as the best advice you ever got about matters of modern love, great sex and the necessity of romance. Reading Zaron Burnett III's essays is a rare opportunity to experience curiosity about all things expressed without judgment, clarity tempered with compassion, and truth as the most exhilarating aphrodisiac. Within these timely observations and candid confessions, you will find a ton of insight, provocative theories, an equal amount of humor and an unexpected optimism that will not be denied.
About Thought Catalog Books
Thought Catalog introduces long reads and digital books for your tablet, eReader or mobile device. All titles are available through Amazon, Apple, and Barnes & Noble. New titles are released biweekly. Questions? Email hello@thoughtcatalog.com.
Retail inquiries: publisher@thoughtcatalog.com