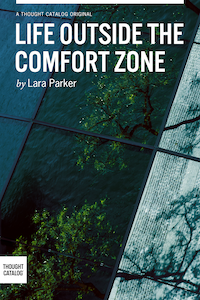 Life Outside the Comfort Zone
Some of us choose to leave our comfort zones. Some of us are forced out of it free falling into the unknown. Life is a constant mystery and different scenarios leave us wondering and without answers. But no matter what, outside of the comfort zone is where our lives truly begin. In this strikingly honest essay collection, Lara Parker takes us beyond her own comfort zone in search of the answers to some of life's most challenging questions.
About Thought Catalog Books
Thought Catalog introduces long reads and digital books for your tablet, eReader or mobile device. All titles are available through Amazon, Apple, and Barnes & Noble. New titles are released biweekly. Questions? Email hello@thoughtcatalog.com.
Retail inquiries: publisher@thoughtcatalog.com