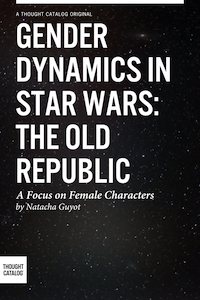 Gender Dynamics in Star Wars: The Old Republic
A focus on female characters
Star Wars: The Old Republic presents ambivalent gender dynamics when it comes to female representations. The game draws from both the Star Wars universe, in which it is inscribed, and also from the EA/Bioware tradition. Regarding non-playable characters, it shows that just like their male counterparts, the female ones can range across a large age span, and be either good or villain characters. The playable storyline for all classes remains overall the same for both genders, which brings a sentiment of gender equality, at least in terms of narrative. Indeed, the looks of said female characters while highly customizable, still retains a large choice of possibly openly sexualized/seductive looks for them.
About Thought Catalog Books
Thought Catalog introduces long reads and digital books for your tablet, eReader or mobile device. All titles are available through Amazon, Apple, and Barnes & Noble. New titles are released biweekly. Questions? Email hello@thoughtcatalog.com.
Retail inquiries: publisher@thoughtcatalog.com