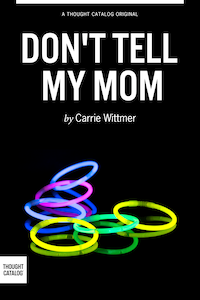 If a non-murdery psychopath wrote a book on a computer instead of writing all over walls or lining up text cut out from magazines, you'd have Don't Tell My Mom. A collection of essays, lists, and indescribable babbles that have nothing to do with each other except that the author does not want her mom to read them. Finally embracing the more uncomfortable vibes of her personality, the author digs deep into her obsessions, mistakes, and every day thoughts about things including Mad Men, sex, hopes, fears, and icicle murders. Don't Tell My Mom was compiled with the intention to make readers laugh, but don't feel bad if you read it and hope your well spent money went to therapy sessions for the author.
About Thought Catalog Books
Thought Catalog introduces long reads and digital books for your tablet, eReader or mobile device. All titles are available through Amazon, Apple, and Barnes & Noble. New titles are released biweekly. Questions? Email hello@thoughtcatalog.com.
Retail inquiries: publisher@thoughtcatalog.com