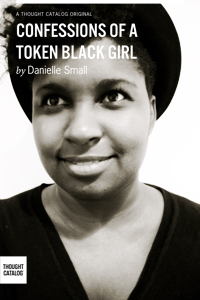 Confessions of a Token Black Girl
Confessions of a Token Black Girl is a snappy comedic tale framing Danielle's first-hand experiences in Wisconsin and other places as the perpetual 'token black girl,' fraught with dark moments and hate crimes. It's a coming-of-age-story but instead of finding herself during a road trip, Danielle found herself through the effects of racism. This book humorously chronicles Danielle's quest for understanding what black identity means to her–instead of what it means to everyone else.
About Thought Catalog Books
Thought Catalog introduces long reads and digital books for your tablet, eReader or mobile device. All titles are available through Amazon, Apple, and Barnes & Noble. New titles are released biweekly. Questions? Email hello@thoughtcatalog.com.
Retail inquiries: publisher@thoughtcatalog.com